3 Reasons To Use That Highland Archer
One of the most underutilized cards despite being a neutral available for use by all splinters, the Highland Archer is way more valuable than players tend to credit the monster.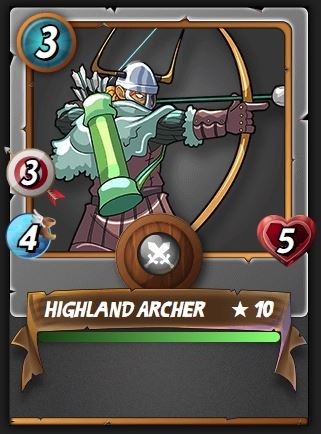 At max level, 3 ranged damage is pretty useful for a mere 3 mana. Particularly when combined with a summoner that can increased ranged damage. Ranged attacks often have few defenses to counter them and can be used for a damage onslaught early on.

It's forward facing! Attacking that front tank often requires just one more attacker than you have to combo that damage to break that shield or kill before it heals.

At 4 speed and 5 HP, the Highland Archer can typically hit most opponents on a regular basis while enduring at least one attack himself. This allows him to be well-positioned in the rear in most scenarios, tucked away where he can consistently add that extra punch to the opponent's front.