Splinterlands Journal: 2x Double-Strike For The Win!
Splinterlands is honestly becoming a straight-up fun game to play. The only tough part is that it can be a heavy investment for it to be truly enjoyable on the initial investment side of things. That said, if your card base is a bit built-up, there are little joys over time to be discovered.
Here's a brief one I found today. I was able to apply dual, dual-wielding menaces found in the Undead Minotaur and the Hobgoblin. A link to our battle can be found below:
https://steemmonsters.com?p=battle&id=a5775f0414e875e1f8354ef67268cc73cd10b8e3&ref=fantasycrypto
My opponent was the all-too-wonderful @nealmcspadden who I was able to neal-mcSPANK across the splinterland battlegrounds. (just kidding, he'll whoop me next time).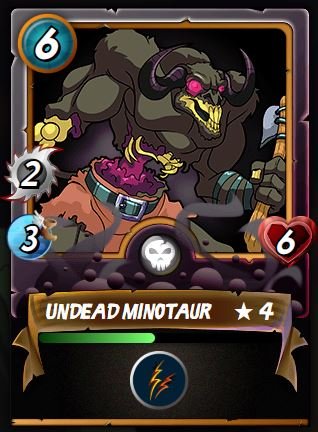 What makes this such a satisfying feat however, is the rather weak nature of the Undead Minotaur, which I've been finding to be all-too-difficult to use on a regular basis. The inability to use him as a tank really limits his potential. Any other position often restricts his use as a melee fighter, and the less the ideal stats does him no favors as well.