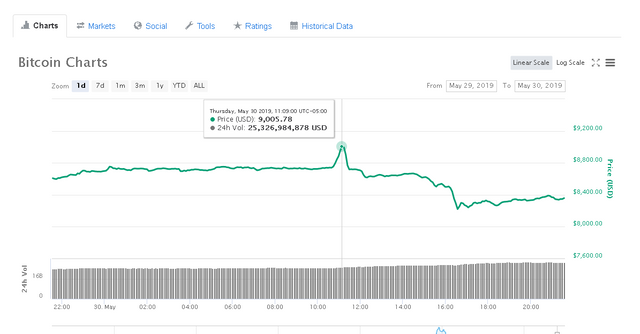 I saw a post earlier showing that bitcoin reached 9,000 earlier today. I checked the chart and it looks like this happened around 11:00 AM. That's a pretty cool thing that it was able to reach this price today. The only bad thing is that it's at about 8,362 right now so it went down quite a bit after that nice achievement.
I think it can still go up again soon so hopefully that can happen in the next few days. I hope it doesn't go under 8,000, but I'm still thinking that it will be able to go up a bit more. It was still good to see that this happened today and I will be checking again the next time something happens.
---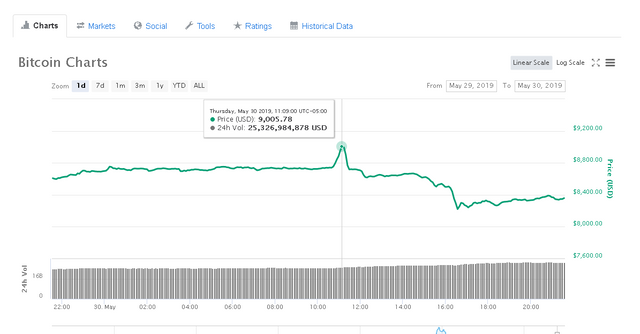 이전에 비트 코인이 오늘 9,000 개가 넘었 음을 보여주는 글을 보았습니다. 차트를 확인한 결과 오전 11 시경에 이런 일이 있었던 것 같습니다. 오늘이 가격에 도달 할 수 있었던 것은 매우 멋진 것입니다. 유일한 나쁜 점은 바로 지금 약 8,362에 있다는 것입니다. 그래서 좋은 성과를 거둔 후 꽤 많이 하락했습니다.
나는 그것이 곧 다시 올 수 있기를 바랍니다. 그래서 앞으로 며칠 안에 일어날 수 있기를 바랍니다. 나는 그것이 8000 이하가되지 않기를 바랄 뿐이다. 그러나 나는 아직도 그것이 조금 더 올라갈 수있을 것이라고 생각하고있다. 오늘도 이런 일이 있었는지 확인하는 것이 여전히 좋았습니다. 다음에 무언가가 일어날 때 다시 검사 할 것입니다.