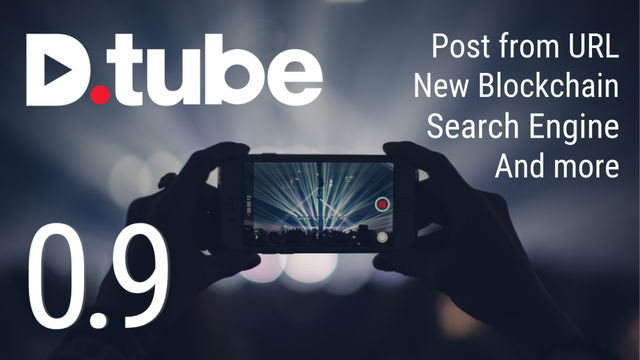 Postujete nějaká videa na D.Tube?
...tak by Vám neměl uniknout tento článek https://steemit.com/dtube/@dtube/dtube-0-9-doubling-up-your-rewards, který je velmi obsáhlý a zmiňuje všechny novinky D.tube verze 0.9.
Souhrn novinek
Čím začít - asi tím největším - jak už je poslední dobou zvykem tak i D.Tube udělal svůj token pojmenován DTube Coin (DTC), pro získání je potřeba získat u D.tube účet a vytvoření nějakého postu. DTC tokeny budou na vlastním blockchainu. Tém, že bude na vlastním blockchainu se ale nevzdáte vlastní odměny i ve STEEMu a SBD a dalších nově vzniklých měnách. Pokud máte účet u STEEMu (což je asi hloupá podmínka :-)), tak doporučuji si D.tube účet vytvořit do 31.7.2019, do kdy by každý nově zaregistrovaný měl dostat do vínku 100 DTC.
Nahrání téměř jakéhokoli videa z webových stránek jmenujme např. YouTube, Twitch, Facebook, Instagram, LiveLeak, Vimeo, Dailymotion (a to částečně i s reklamami)
Možnost hlasování na tagy: tagy jsou "novými" účty
Můžete udělat "promo" na své videa pomocí DTC tokenů
Nové možnosti vyhledávání - jako třeba podobné video nebo třeba podle tagů
Důležitá poznámka k funkčnosti DTC
Doporučuji co nejrychlejší aktivaci účtu, protože za každou hodinu dostáváte nějaký podíl ke svému voting power...

---
Těch změn je tam opravdu hodně, a jsou i docela dost důkladně popsány, takže si to zkuste přečíst, ať víte ;-).