Když tak přemýšlím na tím jak si boostuju články tak jsem tak trochu zanedbával tokeny ve svých počtech. Jistě jste si všichni všimly že poslední dobou mám hodně velkou odměnu za články. Je to protože svoji investici točím v boostování článků, už druhý měsíc, sice ten propadající se kurz mi z toho dělá tak trochu nic moc zisk, ale nicméně asi to je tak trochu nula od nuly pojde. Rozhodně se však dá říc, že ti kdo pro mě hlasují, musejí mít celkem slušnou kurátorskou odměnu. :)
Ostatně by mě docela zajímalo kolik vám to dává? :
No zpět k nedělní porci tokenů. Protože používám pro boostování výhradně smartsteem tak je třeba to protočit několikrát za den než mi dá dohromady takovéhle upvouty. Ale poslední dobou sem začal používat docela dost nových kmenů, teda spíše jejich tagů podle zaměření článku. A dneska jsme tak koukal na článek co jsme si dnes naboostoval a docela mile mě to překvapilo, já vím kurátoři dostanou půlku. Ale posuďte sami: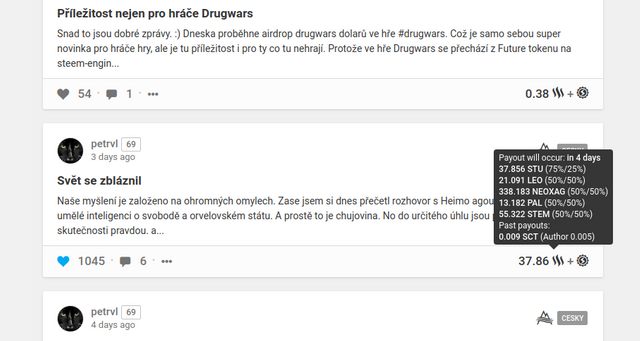 21 LEO, 338 NEOXAG, 13 PAL, 55 STEM, nemluvě o tom že zde není vidět kolik dostanu za článek ještě těchto tokenů: zzan mediaofficials, actnearn u her pak to je ještě battle a spol :)
Podle kurzu jsme koukal že to může může dát pak i pár dolarů navíc jako odměnu v tokenech... a speciálně u tokenů jde půlka kurátorů. Takže pokud pro mně hlasujete bude pro Vás určitě velice dobré mít nějaký ten token stakovanej... trochu z toho vypadává SCT a asi ho přestanu používat, ale ostatní sypou velmi dobře.
Jinak jsem si docela všiml že tu každý děláte různé věci jako stakujete piva a kdoví co ještě. :) Musím upřímně říct že vůbec nic nestíhám a po čase teda řekněme po prázdninách udělám nějakou čistku v tokenech na steem-engine peněžence, přeci jen už to začíná být nepřehledné a já si nepamatuju co k čemu je. Stejně tak zapomínám i na to že mám rozdat dvě piva deně. :) Hrozně rád bych rozdával kávu a protože ta mi chutná více a lemtám ji u kompu nonstop, samo sebou i jinde kde se dá, takže za mě vede káva, ale tu ještě žádnou nemám... škoda a ani nevím jak ten token funguje... ale napadlo mě až budu zase psát kávové recenze tak za každý komentář pod článkem dotyční dostane kafe. :)
To je asi prozatím vše a jdu se věnovat zase drugwars. Mimochodem dnes u nich začala stoupat cena. Protože jsme se dověděli že čím více hráčů něco kupuje ve hře tím je více DWD na odměny tak možná že někteří se přidali jen ze sportu :)