Nadále pokračujeme v podpoře Nadačního fondu pomoci Karla Janečka díky výběru SBD. Důvod je nasnadě, pomoc druhým. Těm, kteří v životě neměli tolik štěstí, jako ostatní.
V minulém charitním postu bylo vybráno celkem 0,1 SBD.
Celkově máme pro Nadační fond vybráno 2,857 SBD.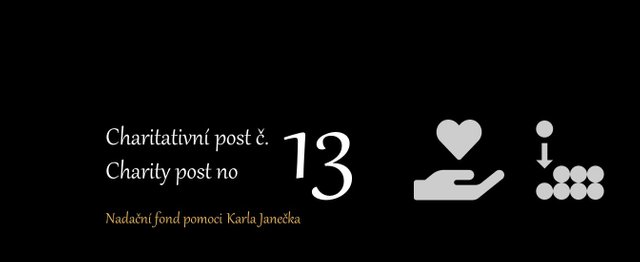 100% zisk SBD z těchto charitativních postů bude použit jako dar bitcoinem na BTC adresu Nadačního fondu pomoci Karla Janečka. Další možností je zaslání SBD přímo na moji steemití peněženku a do memo napsat Nadace a tento příspěvek přidám k vybraným SBD.
Nadační fond pomoci Karla Janečka přijímá dary v Bitcoinech, proto je tato iniciativa směřována k tomuto fondu. Díky těmto postům to půjde jednoduše i pro čtenáře Steemitu, stačí pouze dát upvote tomuto článku.
Získané SP budou použity na posílení mého účtu a tím tedy i na podporu budoucích charitativních projektů. Oproti jiným svým postům budu tedy i tyto vlastní posty upvotovat, což běžně nedělám.
Děkuji, že dáte hlas tomuto článku, podporujete tak dobrou věc.
---
I keep collecting SBD for Endowment Fund of Karel Janeček. Its amazing to help others, those who had not so much luck in life.
To this date we collected 2,857 SBD for the Endowment Fund!
100% profit in SBD from these charitable posts will be sent as a gift used bitcoin to BTC address of Endowment Fund of Karel Janeček. So, your upvotes are very welcome. If you wish to donate even more, you just simply send me SBD directly to my wallet and put to the memo Donation and I will add your contribution to the total number of SBD, which will be then transferred to bitcoin.
The acquired SP will be used to strengthen my account and thus support future charity projects. Compared to my other posts, I will also upvote these posts, which I usually don't do.
Thank you for giving this article an upvote. By doing so, you will support a beneficial thing.