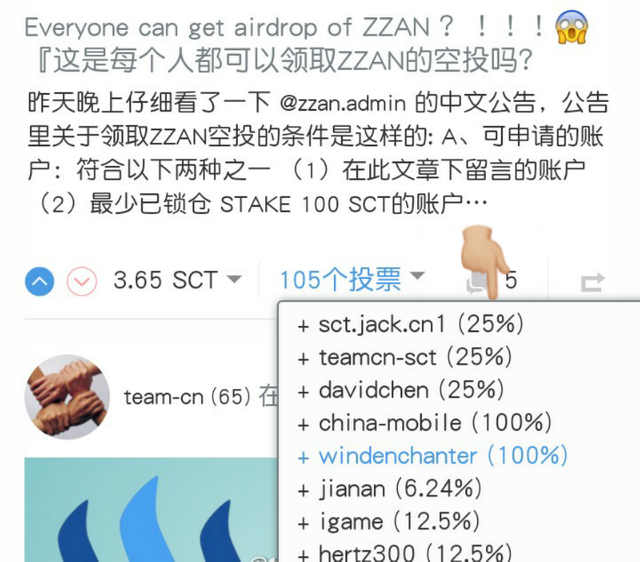 早晨在SteemCoinPan上浏览帖子的时候发现,很多韩国的朋友发帖子在惊讶SteemCoinPan的更新。那么这个更新和原来相比到底有什么不一样呢?其实很简单,在上面的截图中我们能看到在点赞列表中新增加了点赞者的投票权重。
When I browsed the post on SteemCoinPan in the morning, I found that many Korean friends posted a message about the update of SteemCoinPan. So what is the difference between this update and the original? In fact, it is very simple. In the screenshot above, we can see that the voting weight of the likes has been added to the list of praises.
感谢我们的村长 @ericet。在韩国朋友还在觉得这个改变非常新颖的时候,cn区的朋友已经享受这个功能好几天了。村长带给我们的改变还不仅仅只是这一个。
Thanks to our village chief @ericet.When Korean friends still feel that the change is very novel, friends in the cn area have enjoyed the function for several days.The change that the village head brought us is not just this one.
韩国的朋友可能会很好奇,我们的村长到底给我们带来了哪些惊喜呢?请看下面这张图。
Korean friends may be curious, what surprises did our village head bring to us? Please see the picture below.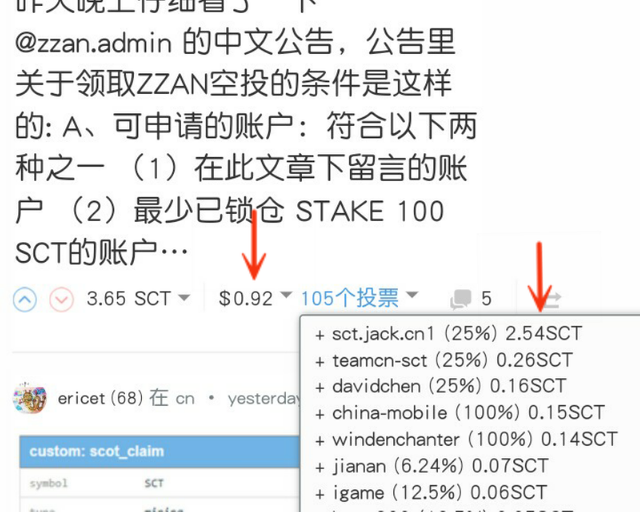 我们在帖子的最后,既可以看到帖子的sct收入又能够看到steem收入。要点赞人员列表中,我们不仅能够看到每一个点赞者的权重,而且能看到每个点赞者给我们带来的sct收入。这就是村长 @ericet 给我们带来的更多改变!
At the end of the post, we can see the sct income of the post and the steem income of the post. In the list of people who like, we can not only see the weight of each of the likes, but also see the sct income that each of the likes brings us. This is the change that the village chief @ericet has brought us!
steem 区块链上的cn社区是一个团结而且包容的社区。如果您想体验村长 @ericet 带来的惊喜欢迎使用下面这个网址登录,如果您懂得中文并且和我们交流欢迎还村长@ericet的帖子后面留言,加入我们的微信群。
https://steemcoinpancn.herokuapp.com
The cn community on the steem blockchain is a united and inclusive community. If you want to experience the surprise brought by the village chief @ericet, please use the following website to log in. If you know Chinese and communicate with us, please welcome the message from the village chief @ericet and join our WeChat group.