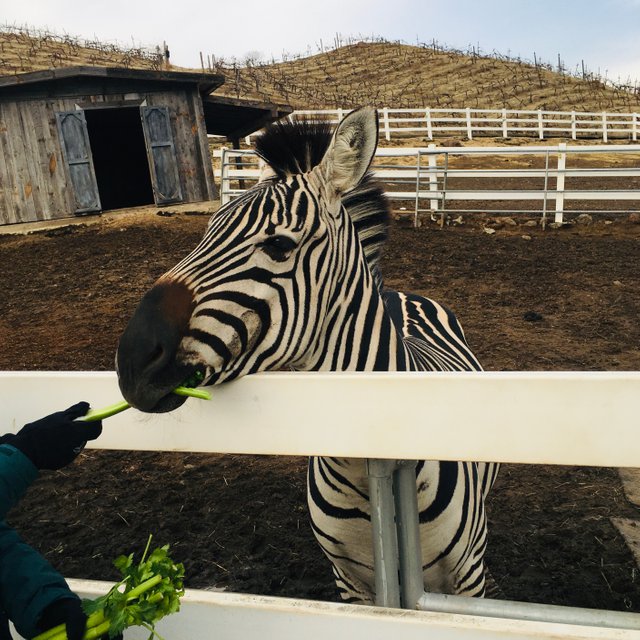 早些時候,我從 Malibu Wine and Safari 說說一下有關那著名的長頸鹿史丹利斯坦利的文章。
如前所述,斯坦利並不是唯一一個在園內上鏡的明星。
今天,我想向您介紹另一款對鏡頭友好且好奇的Zibra戴夫(Dave)。
他比斯坦利來晚了一點。 他的膚色令人讚嘆。
遊覽期間,導遊蒂夫(Tiff)向我們介紹了戴夫(Dave)。 告訴我們他現年的年齡,性成熟程度可以去找伴侶了。
很幸運,野生動物園的管理者確實為他帶來了一隻雌性Zibra Eve。
但是也很不幸,與戴夫不同,Eve還很年輕,她在性成熟程度上還不夠成熟。
因此,他們的照顧者在夜間將他們分開。 非常周到。
---
Early I posted about Stanley the Famous Giraffe Stanley from the Malibu Wine and Safari. Post here
As mentioned, Stanley is not the only one who is photogenic.
Today I want to introduce you to Dave, another camera-friendly and curious Zibra.
He came into a little later than Stanley. He has such an amazing skin tone that can trip you into his skin pattern if you were high.
During the tour, our guide Tiff told us about Dave. Mostly telling us in his current age he is sexually mature enough to find a partner.
Lucky for him, the manager of the safari did get him a female Zibra, Eve.
However, Eve is still young and unfortunately, not like Dave, Eve is not sexually mature enough yet.
Therefore, their carer separated them at night during night time. Very thoughtful.