昨晚临睡前看到一封邮件,内容是
Since October 24, CNX P-o-S mining has been supported by bitcoin mining. Now you can buy coins in "CNX exchange" section only making a deposit to cloud mining and holding it for 1 year.
Cryptonex uses the funds obtained from sale of cloud mining coins to buy and place bitcoin mining equipment to locations with cheap electricity at engineering infrastructure of Coinmint, RMC and other partners.

More details

Due to this news, CNX price increased by 600% over the past week.
We would like to thank Cryptonex community.
内容是说,CNX(Cryptonex)挖矿现在支援比特币挖矿。然后就是买入CNX可以进入为期一年的云挖矿等等的。这都不是我注意到的。。。。
我注意到的是。。。
CNX price increased by 600% over the past week
什么? 600% ???虽然我都没什么在管它的发展,可是怎么可以增值600%? 难道这种市场还可以出现千倍币?
后来去电报群看看,也没什么特别鼓舞的新闻。然后想说,可以套现了。登入钱包去看看。首先就必须先过目游戏规则,当然,如果是长期投资可能10%利息还算不错。可是也是看个人意愿。看过接受就好。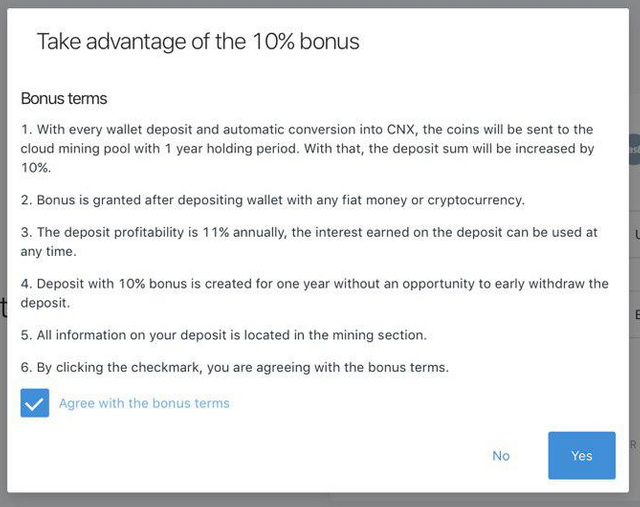 结果令我傻眼,就是币暂时不能卖,因为锁定挖矿中,赚取一年11%的利息。熊市嘛,而且卖了也是亏,不如赚个利息。什么都不能做,卖掉那一点点利息,只能期望以后会继续更好。
今天币价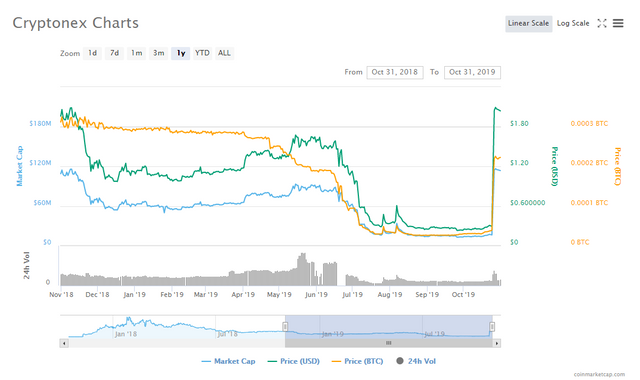 以上分享不造成任何投资建议,请勿盲目跟随。任何亏损,概不负责。