这是一个由韩国朋友们开发的游戏,所以目前在翻译上还不是很全面,韩文与英文混杂,可是不影响游戏。
This is a game developed by our Korean friends, because it's a new starting, you'll found Korean words and English mix in the game, but they don't affect the game.
You can start you Road of Rich with the link above.
你只需要拥有Gmail账号就可以了。Steem 什么目前都不需要。推荐使用电脑操作,或者安卓手机。我测试iPad Safari,Chrome 都极难操控。
You only need to use your Gmail account to login the game. You don't need to prepare any Steem for it. You are recommended to enjoy the game on PC or android phone. I've tried iPad Safari and Chrome, they are hard to enjoy the game.
游戏开始
Let's start the game!
进入游戏后,你会出现在地图上,位置为Seoul(图1)。选择进入Seoul,你会看到右上系统已经赠送你15000金币,你可以直接用这些金币在Training Center 添购5个佣兵,每个种类买一个。加上系统附赠的就有6个。这样就可以开始赚钱了。(滚动滑鼠滚轮可以缩放地图,拖曳来移动地图。离开画面都选择左上的回到地图。)
After login the game, you'll located at Seoul. Click into Seoul you, see 15000 coins on topper right and a mercenary. Go to Training Center buy another 5 mercenary, buy one mercenary of different type. Now you have 6 mercenary and we can start to earn money. (Roll the mouse roller to zoom the map, and drag to move the map. Always use Return to map or World map on upper left to go back.)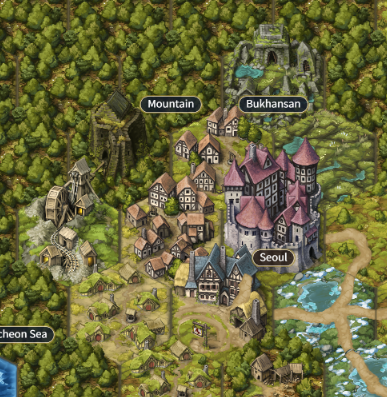 图1
现在我们移到到Yeongwol(图2)进行采丝作业。选择Yeongwol 需要几个小时的移动时间,所以先休息一下。进入Silkworm Farm(图3),点选佣兵底下的Select,然后再选择右下的Start。记得选一个佣兵,Start 一次,不然采集的奖励被平分了,不划算。任务时间是6个半小时一轮,第一个选项可以观察进度,Complete了可以收集奖励。
Now we can move to Yeongwol to farm our Silk for coins. Click on Yeongwol and it'll need hours to move there. Then we can click into Silkworm farm to do the quest. Select one mercenary and Start. Yes, start one by one if not they will share the reward, and you'll waste more time. The harvest needs 6 and half hours to finish. You can check in the first icon and collect them when Complete shown.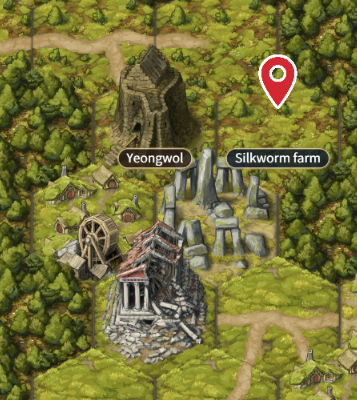 图2
收集了数百个Fabric 和 至少50个 Silk就可以拿去城里卖了。进入Yeongwol,选择Store(图4),并开启自己的包包Inventory(第二个选项,图5),从包包里点选一个要卖的,然后移动到Store 里面再点下去,输入要卖掉几个就可以卖了(图6)。
我这时候Silk 5000金币一个。这时你应该要有不少过20000万个金币,10000个金币等下要买House,然后最好可以留个10000万金币作为医药费,还要保留120个Fabric来制作布衣布裤。最后提醒,你也可以赚多多钱,把佣兵买满,可是采集做太久还是不会升级哦,因为没有经验值,所以不建议浪费太多时间。
After collected a few hundreds Fabric and at least 50 Silk, you can bring them to sell on Yeongwol. Click Store, open Inventory, click on Silk and click in Store again, an window will pop out, put in the quantity you wish to sell and sell them.
Now you should have not less than 20000 coins, you need to spent 10000 coins to buy a House and reserve 10000 coins for Hospital. Don't forget to keep 120 Fabric for processing Clothes. You can collect as many Silk as you want, and buy some more Mercenary, but you won't gain any EXP from collection. So don't waste too much time here.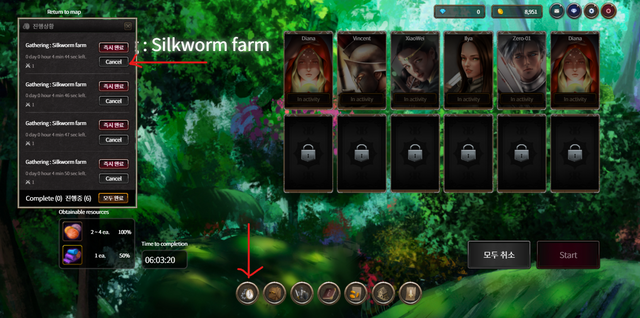 图3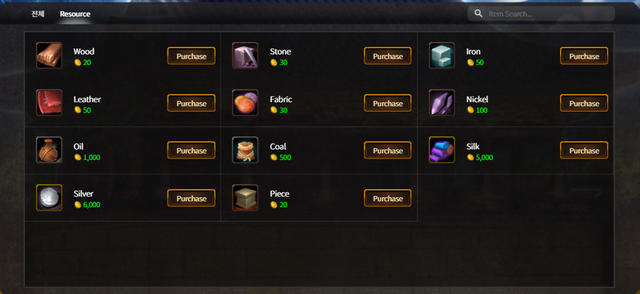 图4


图5


图6
现在移动到Busan(图7), 也是要几个小时。可以在Busan花10000金币买House,然后可以在里面制作装备(图8)。制作Clothes的衣裤各要10个Fabric 。做完可以打开Mercenanry,双击角色头像给他们配上衣裤(图9)。我在Yeongwol时,购买了120个Iron,所以做了6柄Iron sword,给每个人都配上了(图10)。这是比较败家的做法。
要省钱,配好衣裤,就可以去a bandit den(不知道什么怪名字@@),Select 3 人一组,开始任务。完成后有木剑,先给一人配上一支。有刀了,就可以去a basement (地牢)打小偷收集石头(图12)。Stone 可以生成Stone Sword, 慢慢的给一人配上两把石剑。因为这不是采集任务,所以会损耗HP,SP(图11),当然有EXP 奖励。三人一组是避免灭团。看到HP 和 SP 不够了要去城里的Hospital治疗(图13)。等级高了可以分开。
我也只到这里了,大佬说石头要去北边的Sokcho才能卖得好价钱。大家加油吧!移动一次要4个小时,请务必填满包包。
Now we can move to Bushan to buy a house and produce Clothes from Fabric. Each piece of Clothes needs 10 Fabric. Then open Mercenary and double click the character, and equip the Clothes, both Top and Pant to them. I've purchased 120 Iron in Yeongwol, but it cost quite a lots of coins.
In economic way, can go to a bandit den(I don't understand the translation), Select 3 mercenary in a group and Start. Here you can gain EXP and collect Wood Sword, equip each mercenary one sword. Of course they'll lost of HP and SP, so please go to Hospital for Treatment. When mercenary equipped with sword, you can go to a basement ( dungeon) to kill Thief and collect Stone which can be used to process Stone Sword. Now you can slowly equip them with 2 stone sword and when their level get higher, you can separate the team.
According to senior said, Stone sold at Sokcho has a better price. But It took 4 hours of transportation. So make sure you are full of stones.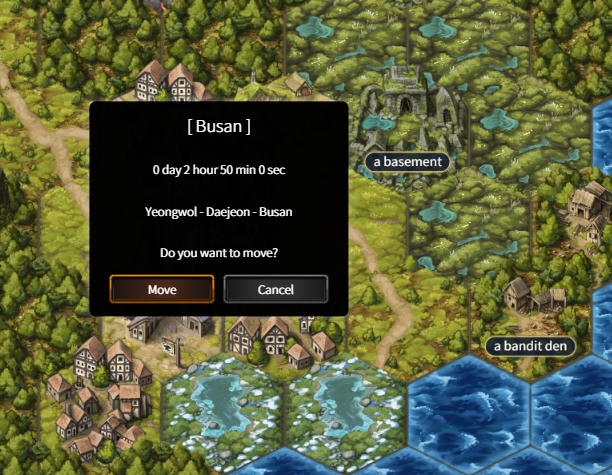 图7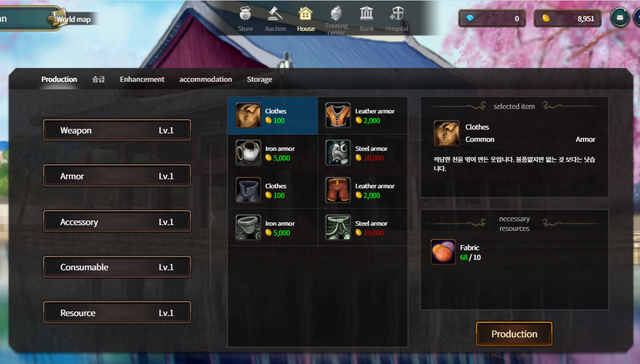 图8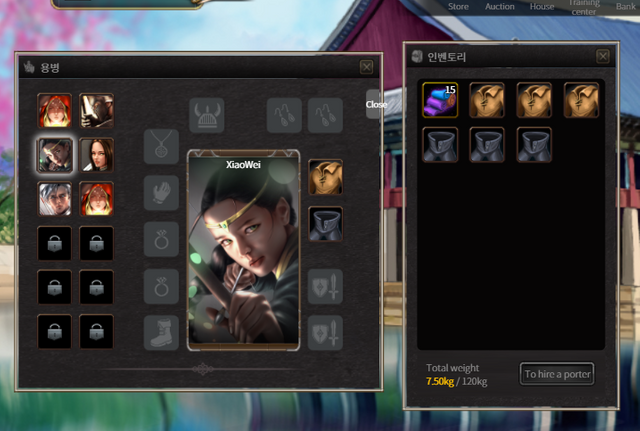 图9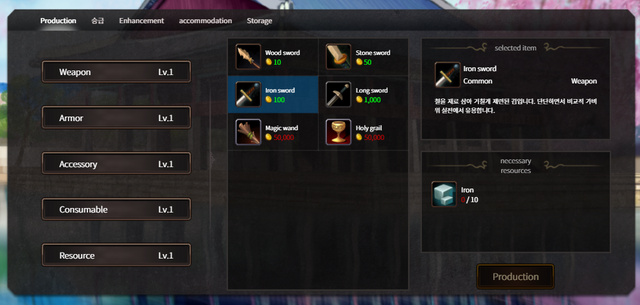 图10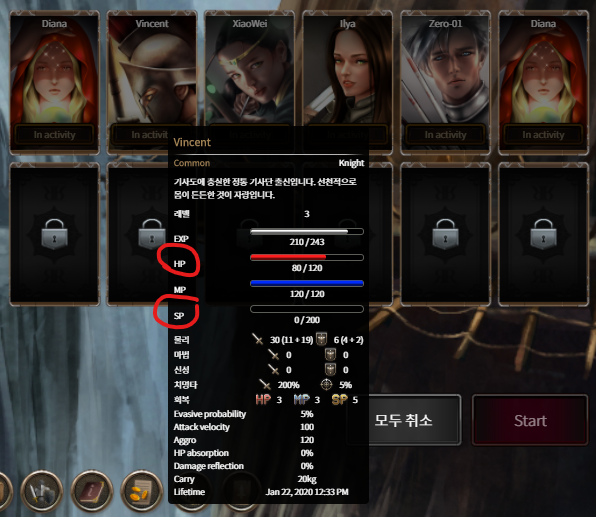 图11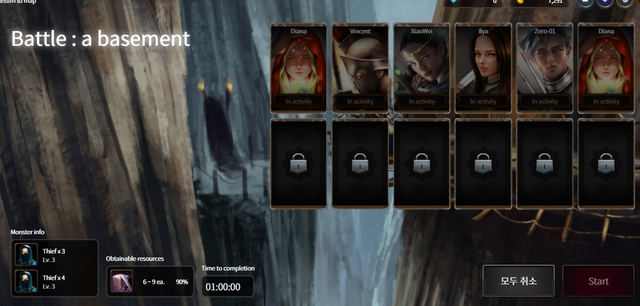 图12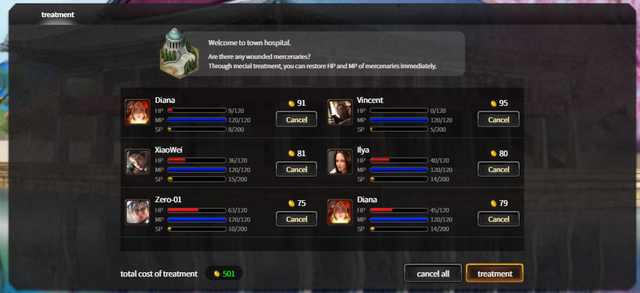 图13
或许你留意到装备都会有不同属性和耐久度(图14,15),所以,现在随便看看就好。
Your armor and weapons will have different attribute value, but for now, don't border.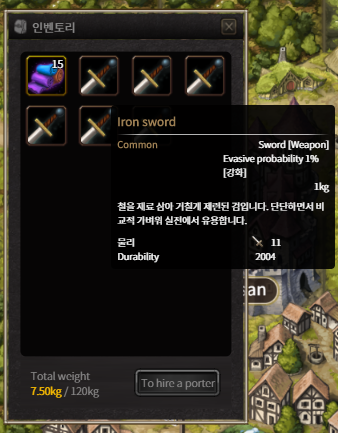 图14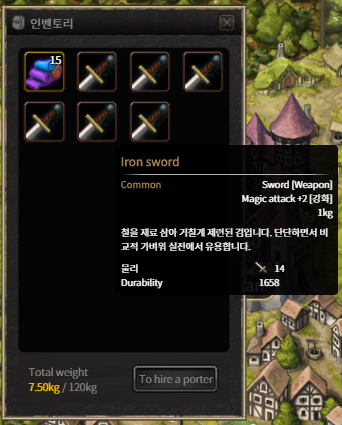 图15
这是我用铁剑三个一组打小偷,升至2级。
3 in a team to collect stone, level up to 2.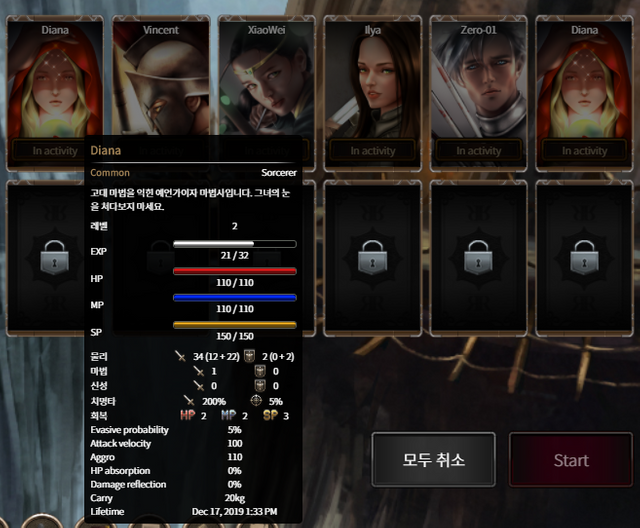 图16
这是3个一组升至3级。
3 in a team level up to 3.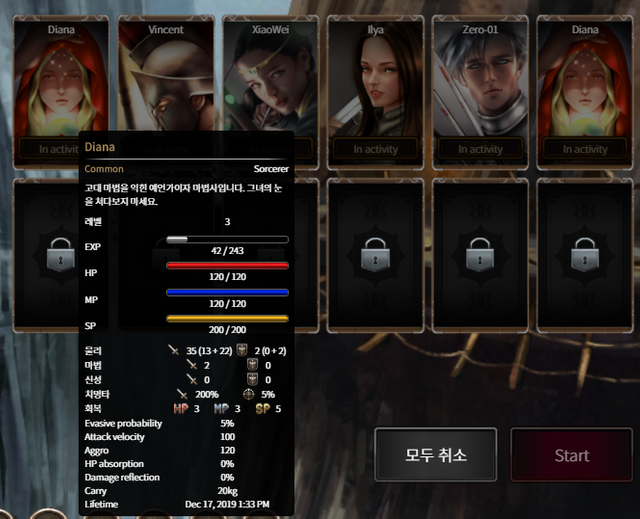 图17
这次尝试2个一组,开始出现损失。
Testing 2 in a team, HP and SP started to lost.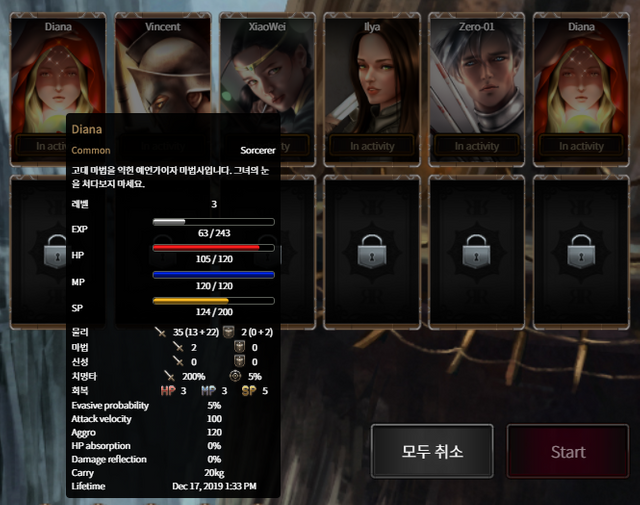 图18
后续文章尽请期待。
To be continue.
其他操作也可以参考前辈abccoin或者m18207319997
Here are 2 senior posts for us to study too, abccoin or m18207319997