Football Is a universal game in which both male and females engage it.. The sport doesn't not belong to a male gender only and it could be enjoyed each sex.
On this issue of if a cross gender coach be allowed in football, I feel Their is no Harm in it. It just all comes down to if the person to be appointed either male or female is capable.
Let me divert a little, this year supercup to be played in August 14 is to be refereed by a female named Stéphanie Frappart, which makes her the first ever female to referee such a show piece in the history of the tournament. In recent years female have been given a platform to thrive in areas such as being a lines line in a men football game, it all Falls and come down to such an individual being capable or not.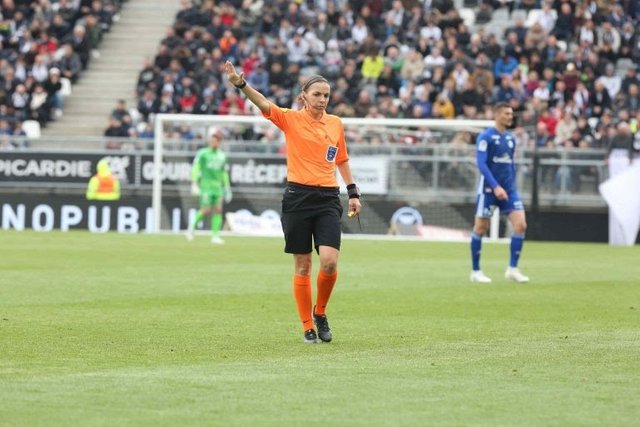 Stéphanie Frappart. source
Although if the cross gender coaching is to be allowed, some ground rules have to be set. We know some Men might not be capable Of successfully pulling the job off due to unprofessionalism from both the coaches and players.
Overall, the idea is a welcome one and it will be fun to see a female take over a top team like Real Madrid. It goes further to break the sexist mentality and helps level the playing field which results to given everyone a chance to shine.
But this implementation could bring about some improper behavior such as the male coach might be having affairs with female players and might result to favoritism during his selection for players to feature in a match.
Every decision always have its own negative and positive side. So it's only best if everyone act prefessionally and get their act together to pull this job off.
It's not enough to be professional, you must also try to understand your other gender counterparts, you being a male coaching a female or you being a female coaching a male, you must try to understand them. The reason being that the functionality of both male and female Body are different and each operates differently. So understanding this is the first step towards making sure that you all are in the same page.
Respect also is important. The coaches either being a female or male must be able to command respect from his players and also, they should also return the favour. If their is lack Of respect between this two parties, this setting might not work. The male players must see the female coach as their boss and not a lady they are trying to impress to have sex with or date while the male coach should not see the female players has ameteurs, nothing Hurt more than being downgraded for a post you strive to achieve.
With all this being put in place, I see no reason why the philosophy of cross gender coach should not be encouraged and promoted, it will only add more spice to the game and help strengthen sexual equality between all Parties.
Thats also a way in which football can also make his own stance that sexual equality is supported by them and they place both male and female in the same high regards and not seeing a male. Being above a female.
Both will be judge on what they can do and not because of their gender.
I support cross gender coaching and let's make t a reality in football. To be sincere, all this are possible in football. No limit, so let's see what the future hold on this issue.
Twitter promotion Link:
https://twitter.com/mr_lebey/status/1159109359248560130?s=19