Blogging on DBLOG Platform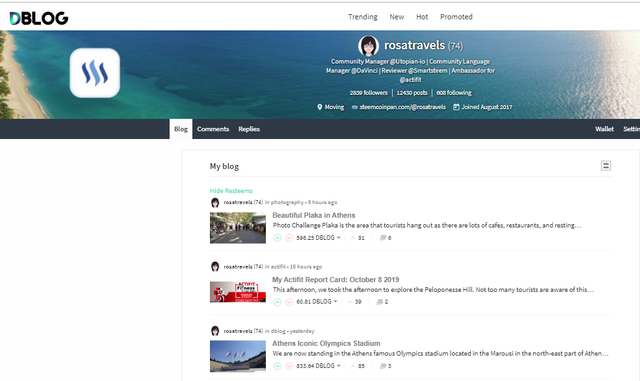 I just started using DBlog yesterday and today.
As you can see from my DBlog page, I now have 3 blog posts so far.
Dblog.io has just been launched for 2 or 3 days. If you have not heard about dBlog yet, it is not too late. Many of us are now trying out this platform for our blogging.
As you can see from the name of the tribe, the intention is to encourage us to "Blog".
From my 3 posts there, 2 of them are really 'blogging' posts while the middle one there is the Actifit Fitness app to report our daily fitness record. Since the post can only be posted via our mobile phone, it is quite difficult to write a lot of words, therefore the 'blogging' material tends to be much less.
Time to Blog Again
When I saw the launching of the DBlog, I am very much excited as it reminds me of my first intention when I came on Steemit.
DBlog is going to be a great platform to set many bloggers on FIRE again as it has done to me.
Two and a half years ago, I started off with long blogging posts blogging my travels. Last year, with the emerging of different apps such as steepshot, partiko, actifit, etc, a lot of our blogging was done on the mobile phone. As a result, the length of the blogging post became less and less because it was difficult to do extensive blogging on the mobile unless you are very skilled.
I am only able to do blogging at my computer at the moment.
So with the changes of HF 22, the fire of 'blogging' again comes back to me. I will come back as a blogger and make effort to make each blogging post count, even when I use the mobile apps such as partiko and actifit, though uploading pictures will be much fewer with mobile apps.
Promoting DBlog


Source
Just as the theme says: Make value, and give it back to bloggers.
So here I am! Fully supporting this dBlog tribe and hoping that you will also join us.
Great Strategy: D Blog supports ALL content.
From the founder, @rokyupjung, dblog supports anything that you wish to blog about. This is great news as we are not limited by the topics on this platform. This allows us to freely utilize our blogging skills.
But then there are still community guidelines you need to follow:
Content to be avoided are:
Illegal content
Intellectual property abuse
Dangerous or derogatory content
Misrepresentative content
Sexually explicit content
Child sexual abuse material and pedophilia
Some early conclusions with these short tips:
Having been on this platform for 2 days and observing what is happening on the platform, here are my short tips to help you become successful on this platform:
Blog great original content and don't copy others
Share your experiences in a personal way
Contribute great ideas and insights into things that you are skillful in
Write systematically for people to follow you
Be creative and interesting
Have your signature style of blogging in there
Some Minimum Requirements to get rewards:
Use the tag #dblog on your posts
Write at least 300 words for each blog post so that you can have a chance to get more traffic and be rewarded by the dBlog curators
Buy some dBlog tokens from Steem-Engine
Stake your dBlog tokens
To support DBlog: I Staked 10,000 DBlog tokens
Yesterday, I decided to support the dBlog platform and bought 10,000 dBlog tokens using 100 STEEM.

After buying the the dBlog tokens, you need to STAKE them to become effective not only as a blogger but also as a curator of content on dBlog.
Many people forget this step and this is a must.
Here is how it looks when you STAKE your dBlog tokens.

Now, you are all set to go to THRIVE yoru influence on this platform by:
Conclusion: Come, join us and be part of DBloggers
In reviewing the DBlog site at this initial stage, I invite yo to join us.
Together, we will make a difference on STEEM in the coming days.
Rosa
@rosatravels
---
---
Thank you for reading this post! If you like the post, please upvote, resteem and comment.
谢谢你的阅读!希望你喜欢。如果你喜欢我的分享, 请点赞并跟随我。