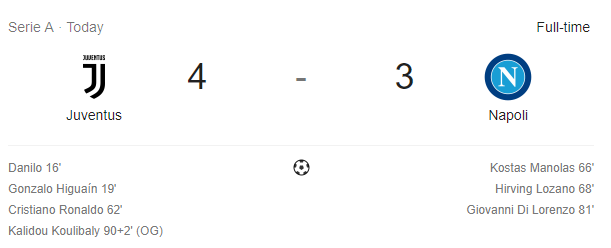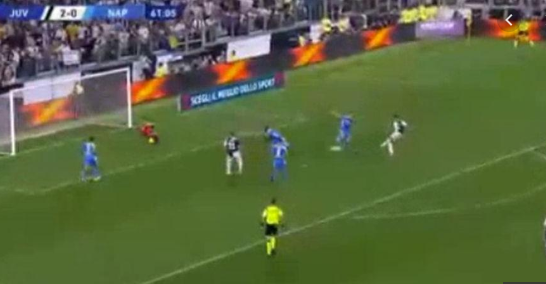 I got up too late in the morning to watch the English Premier League games and anyway I didn't remember until I read the Guardian around midday, but it also noted that Juventus and Napoli were playing so I tuned in to watch the game.
And boy was it a good game with a lot of coincidences or odd events happening, I started watching around the 5th minute and eventually Juventus sent in Danilo a Brazilian player who was playing his first game on the team, well he hadn't been on the field for a minute when he scored the first goal of the match the first time he had ever played an official game and the first time he ever touched a ball for Juventus, I think this is a new record.
Then Higuain added a very nice goal. In the second half Cristiano Ronaldo added another goal that looked easy but believe me those goals are not easy you have to know what to do with a ball to put them in and that was that, Juventus was up 3-0 with only 25 minuts left.
But on the 65th minute Napoli scored via a Manloas header and a couple of minutes later Mexican player Chucky Lozano who was also making his debut with Napoli scored the second (side note: Lozano has always scored a goal the first time he has played for any team he has played on). So things were getting very exciting.
And then it happened on the 80th minute Di Lorenzo connected with his knee and scored the equalizer, it was 3-3 at this point. From here on the game was up for either of the two, very exciting. And then in the 92nd minute after a free kick Koulibaly scored an own goal, and it was a real good one, right in the corner were I have seen Maradona and Zico score free kicks, impossible for the goalkeeper. Very bad luck for Koulibaly who had played a great game.
So Juventus took this game, which is actually the best football game I have seen this year and that includes the ECL games in May.