The best gift that I received.
This grand piano, which you gave me.
Trained me to become a pianist.
One day I will become a musician.
Write songs, play music.
Perform in the stage to make you proud.
But it's a sad moment while playing a song for you.
I caught you breathless while sitting on your chair, and listening to the music I am playing with the piano.
It broke my heart so dearly.
That after your passing, I coveres the piano you gave me with blanket.
I stopped playing because it only reminds me of the pain when you left.
I tried to forget about music.
Until one day I am walking, I heard someone playing the piano.
I saw a man teaching his child.
It reminded me of you.
I know you wanted me to play music again.
So I headed back home.
Removed the huge blanket covering the piano.
I played the grand piano, and it took me back to the times when we sing songs together.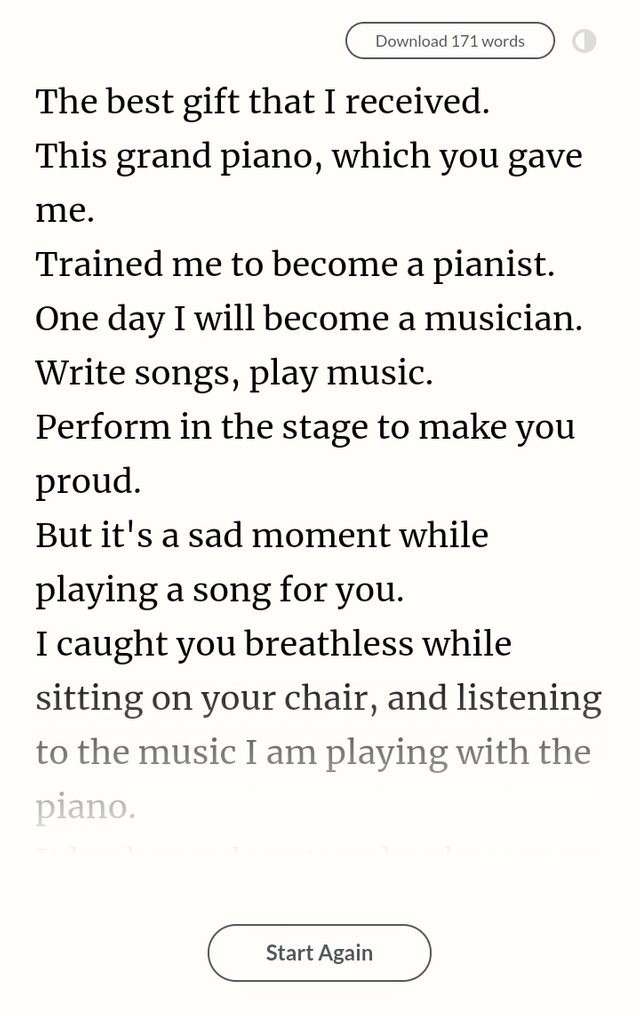 Written using The Most Dangerous Writing App.


Please support @surpassinggoogle as a witness by voting him at https://steemit.com/~witnesses and type in "steemgigs" at the first search box.

You can also give him witness voting decisions on your behalf, visit https://steemit.com/~witnesses again and type in "surpassinggoogle" in the second box as a proxy.

Please support his project as well, which is @teardrops Smart Media Token.
---
Do support @steemph, @bayanihan, and @sawasdeethailand curation teams. Huge thanks to sir @bobbylee, and @hr1.

Do you use eSteem?
eSteem is a Mobile📱& PC💻 app. for Steem with great features. Also, you get Incentives posting through eSteem apps.
eSteem Spotlight; eSteem provides rewards for it top users in Leader Board with most Posts, Comments and Highest Earners.
---

Please vote
for @good-karma as a witness.