She's dreaming to become successful.
Took an exam to attend the school.
That school was known of high prestige.
Every students ever dreamed of attending.
The pressure is inevitable.
She can't take it anymore
Until she suffered mental and emotional breakdown.
That was caused by extreme pressures by parents and schools.
They want their child to excel.
Of course, that's what everyone wants.
But have they thought about the effects on the person mentally and emotionally?
That's why many people cannot control themselves anymore.
They're giving up because of pressure.
It can affect a person.
It might cause anxiety disorders, depression, and other mental illness.
If the student fails, there's possibility of blame.
The student will begin to think she's a failure.
Success isn't measured by what you accomplished in the academics.
It isn't about attending the prestigious schools.
It's more of continue living.
Mental and emotional health should be considered when under schooling.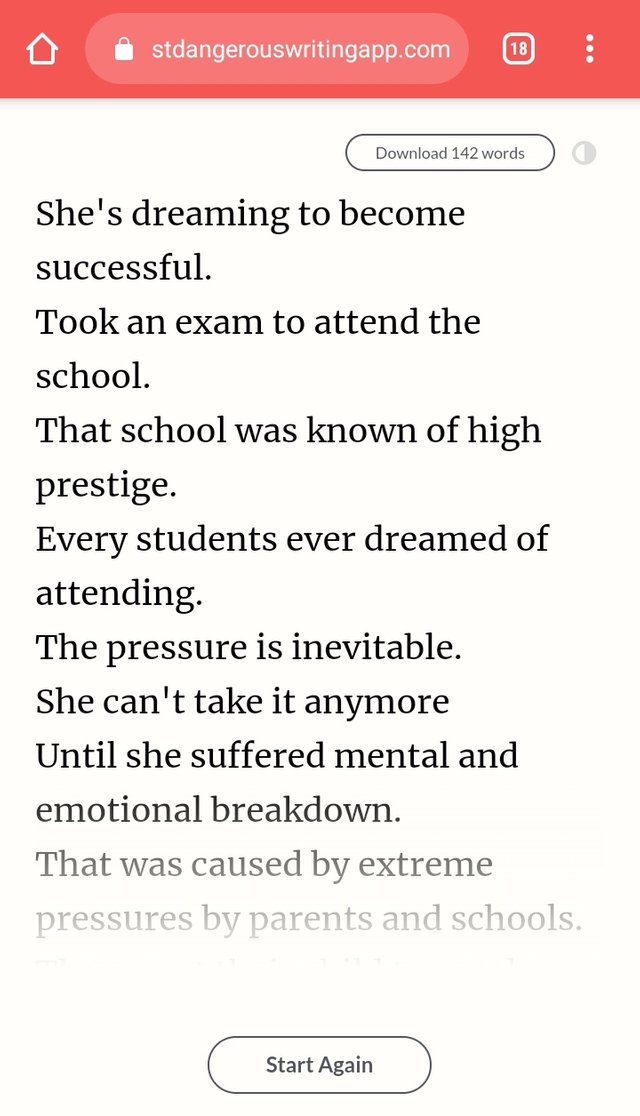 Written using The Most Dangerous Writing App.


Please support @surpassinggoogle as a witness by voting him at https://steemit.com/~witnesses and type in "steemgigs" at the first search box.

You can also give him witness voting decisions on your behalf, visit https://steemit.com/~witnesses again and type in "surpassinggoogle" in the second box as a proxy.

Please support his project as well, which is @teardrops Smart Media Token.
---
Huge thanks to sir @bobbylee.

Do you use eSteem?
eSteem is a Mobile📱& PC💻 app. for Steem with great features. Also, you get Incentives posting through eSteem apps.
eSteem Spotlight; eSteem provides rewards for it top users in Leader Board with most Posts, Comments and Highest Earners.
---

Please vote
for @good-karma as a witness.