My first post after HF21 with the new @esteemapp surfer! Looks pretty cool and the experience so far is seamless. Love it and will be using it more frequent. Compared to the iOS mobile version, it is definitely way better, no doubt about that. Just hope that the mobile version could be improved more as I am always away from my laptop or desktop which I only can resort to mobile device for posting.
Anyway, back to HF21 where the transition seemed to be better than HF20 a lot! I already can post, comment and upvote after like less than 7-8 hours plus of transition. Just happen that time I was also asleep and recharging myself. With the change, I do see the payout structure has changed with 45.5% of author payout, 4.5% for beneficiaries payout (depends on how much the platform set their beneficiary percentage at), curators payout (16.74% for now which I don't really get it, ain't it supposed to be 45.5% as well?) and also burned payout which is a whopping 66.74% (which I don't understand as well). Still need some time to study about this new payout structure. However, my writing will still go on and will be getting better too!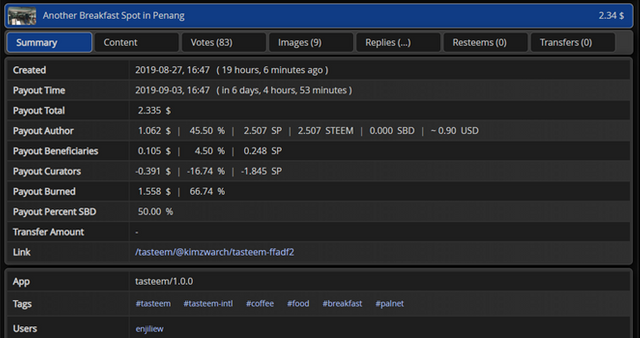 And of course another important point for the curators is the change of curation burn period from 15 minutes to 5 minutes. Therefore, we can now curate a post around 4-5 minutes to maximize the curation reward. This is another big change as we need to reset our curation plan and to be quick at getting good contents.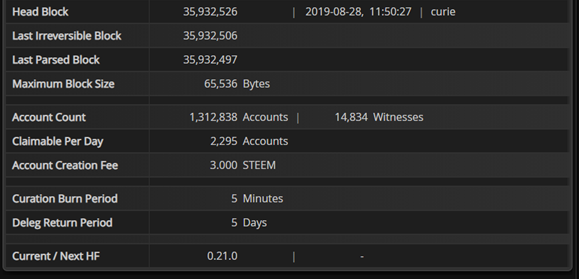 Again, I will be paying close attention to my curation reward performance. As in the today, my curation reward for the last 7 days was 10.15SP which is before HF21. So would like to see the performance of my curation reward on 4th September 2019 to see the difference. So I would expect the figure to double up as previously the ratio was 25% for curator payout and now is 50%. Let's see how it will turn out.
Wow, again cool interface @esteemapp! Love it!