Hello, guys?
I read @ darthknight's post on hive yesterday
(https://hive.blog/steem/@darthknight/my-steem-funds-are-currently-being-frozen-by-the-top-20-steem-witnesses-reward-for-info)
I was very curious about who he was. As a general idea, he should have asked Steem's witnesses for help. He never tried to contact STEEM witnesses. His first posting on the community was that he was preparing through the law.
This is how @bil.prag likened it to this event as below.
your credit card gets stolen (that is your mistake), funds from your credit card are being spend by a guy who stole it. you go to the bank to cancel your card, and they say, it was your mistake, you lost your card, we will not give you an option to cancel your card.
the mistake was his, but witnesses blocking his account are blocking him from fixing it. not to mention that they blocked the private funds only to be able to manipulate the market, no threat to steem blockchain. fund blocking was a market manipulation.
imagine your bank saying to you that you can't spend your money on your account because it will affect the economy?
https://www.steemcoinpan.com/hive-101145/@glory7/re-darthknight#@bil.prag/re-ayogom-q8h81v
What do you think of this? I answered as below.
Do you make a accusation to the bank? Or
Do you make a request to the bank?
What do you think is the general thought?
I thought maybe @darthknight could be someone's secondary account.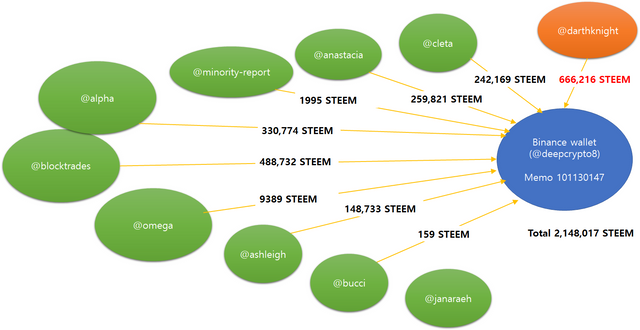 @darthknight had sent STEEM to a Binance account such as blocktrades and alpha.
Whose is Binance's wallet?
Whose Binance wallet did his get 2,148,017 STEEM?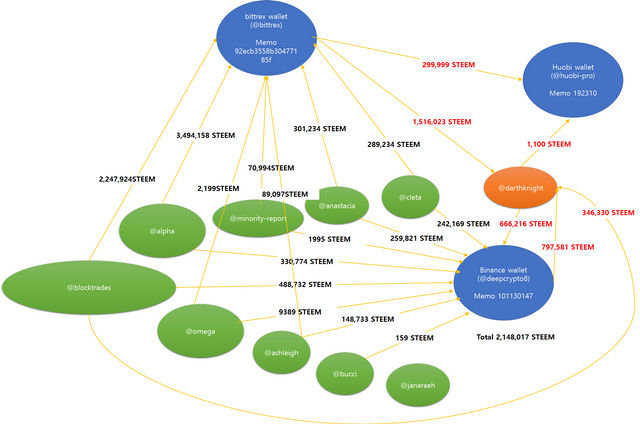 Whose is Huobi's wallet? and Bittrex's wallet??
Why are their accounts connected?
I don't want to talk about HIVE, but is HIVE a new warehouse to replace STEEM sold to JS?
(Maybe) So far, Steem has been dominated invisiblely by a giant cartel.
This is the tip of the iceberg.
Do you think this was a really right society? right block chain?
Where did his huge funds come from?
It's fucking too many. Did anyone really unknow? Or is it on the same side?
Many accounts are being displayed repeatedly.
Who are they? Then, what is the HIVE they made?