Steem prices have skyrocketed recently. Previously, there were great arguments between the three, the reward for the valuable articles on Steemit, the reward for the Steem investors and the reward for the witnesses, and many people fell apart. As a result, the price of Steem went down to a shameful price below $0.1, but recently recovered to more than $1. However, it is necessary to examine whether the value of the STEEM blockchain has increased as much compared to this price increase.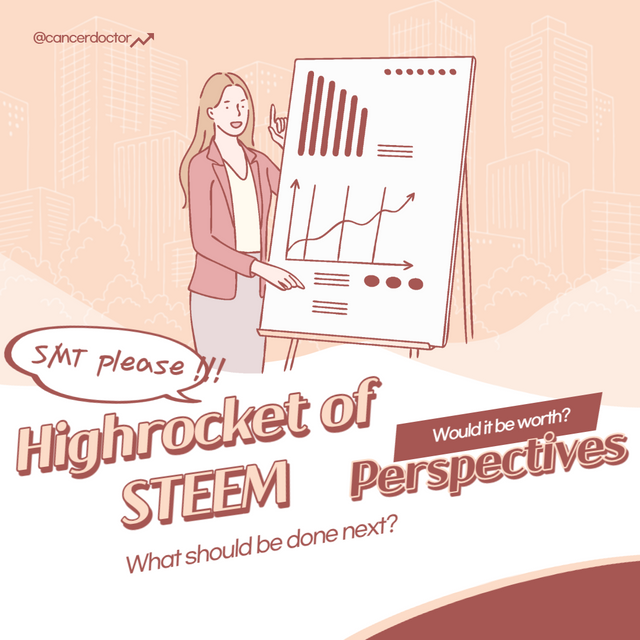 Steem was once one of the most popular blockchains that swept the top ranks of various blockchain evaluations. It was due to the strong communities, active activities of many enthusiasts, and the expectations of SMT (smart media token). Many experts highly appreciated this SMT project and seemed to have had a lot of expectations.
Last year, SMT project was announced to be successfully completed the mainnet test and was about to launch sooner or later. However, it was postponed indefinitely due to a feud between Justin Sun and the developers, and a long quarrel among witnesses. For this reason, #steemhunt and #appics, one of the representative projects of Steem, are leaving the Steem blockchain and are undergoing migration into other blockchains. If the promise for SMT had been done well, Steem would have really gone to the moon. Currently, a new developer's input is required for SMT to proceed.
From hearing about the witnesses indirectly, it is said that C++ developers are desperate. If you are interested, please contact @steem-agora.
Steem, which was almost going to be ruined, has come to this point again because of the great contribution of various kr-communities: #sct of #steemcoinpan, #zzan of #steemzzang, #jjm and #aaa of #jangjangman, etc., and platforms such as #upvu and #nutbox that can maximize the profits of investors have also emerged. They were enough to arouse the interest of individual investors looking for an appropriate investment destination in the era of low interest rates, and I think they have contributed greatly to the recruitment of numerous newbies.
However, Steem still poses a huge risk. This is because it has not yet achieved success to revitalize the expectations of the past, and the devices for the survival of the community are gradually being depleted. A fixed beneficiary is needed for the sustainable operation of the community. In addition, SMT development needs to be resumed in order not to experience regrets such as steemhunt and appics that have left.
It is hoped that the recent rise in Steem prices will lead to sustainable development that is recognized for its sufficient value, which is not temporary.
---
최근 스팀 가격은 높이 치솟았다. 한때, 스팀잇의 가치 있는 글에 대한 보상과 스팀 투자자들에 대한 보상, 증인들에 대한 보상, 이 세가지 사이를 놓고 굉장한 공방이 오고 갔고, 많은 분들이 떨어져나가기도 했다. 그로인해 스팀 가격은 0.1달러의 치욕스러운 가격까지 내려갔었지만, 최근 다시 1달러 이상까지 회복했다. 하지만 이러한 가격 상승에 비해 스팀이라는 블록체인의 가치가 그만큼 커졌는지 돌아볼 필요가 있다.
스팀은 한때 각종 블록체인 평가의 상위 랭크를 휩쓰는 굉장히 각광받는 시스템이었다. 그것은 탄탄한 커뮤니티와 활발한 활동, 그리고 SMT (smart media token)의 기대 때문이었다. 많은 전문가들은 이 SMT project 에 대해 높이 평가하고 굉장히 많은 기대가 있었던 것 같다.
작년 SMT project 는 mainnet test 를 성공적으로 마쳐 조만간 launching 을 앞두고 있었다. 하지만, Justin Sun 측과 개발자들 간의 불화, 그리고 증인들 간의 긴 다툼으로 무기한 연기되었다. 이로 인해, 스팀의 대표적은 프로젝트 중 하나였던, #steemhunt와 #appics는 스팀 블록체인을 떠나 마이그레이션을 진행중이다. 만일 SMT에 대한 약속이 잘만 이루어졌다면, 이들과 스팀은 정말 날라갔을 것이다. 현재는 SMT 가 진행이 되기 위해서는 새로이 개발자의 투입이 필요한 상황이다.
증인 분들 얘기를 간접적으로 들어본 바로는 C++ 개발자가 절실하다고 하며, 혹시 관심 있으신 분 있으면 @steem-agora 님께 연락해주시기 바랍니다.
현재 거의 사라질뻔했던 스팀이 다시 여기까지 온 것은 여러 kr-커뮤니티의 공이 크다고 하겠다. #steemcoinpan 의 #sct, #steemzzang의 #zzan, #jangjangman 의 #jjm 과 #aaa 등으로 끊임없이 구성원 간 소통을 이끌어 냈으며, #upvu 와 #nutbox 등 투자자들의 이득을 극대화할 수 있는 플랫폼 또한 등장했다. 이들은 저금리시대에 적절한 투자처를 찾는 개인 투자자들의 관심을 불러일으키기 충분했고, 수많은 뉴비들이 영입되는데 크게 기여했다고 생각한다.
하지만 여전히 스팀은 큰 위험이 존재한다. 아직 과거의 기대에 부흥할만한 성공을 이루지도 않았고, 커뮤니티의 생존을 위한 장치들도 서서히 고갈되고 있기 때문이다. 커뮤니티의 지속가능한 운영을 위해서는 고정된 베네피셔리가 필요하다. 또한 떠나간 steemhunt와 appics 같은 아쉬움을 다시 겪지 않으려면 SMT 개발의 재개가 필요하다.
부디 최근 스팀 가격 상승이 일시적이지 않은 충분한 가치를 인정받는 지속가능한 발전으로 이어졌으면 하는 바람이다.
---
Reference 참고
SMT mainnet annoucement at 2020: https://steemit.com/smts/@steemitblog/understanding-smt-features