비트코인 장단기 옵션 스큐(Skew)가 3월 이후 처음으로 모두 0 수준을 회복하며, 콜옵션(강세 베팅)에 비해 풋옵션(하방 보호)에 대한 수요가 약화되었음을 나타냈습니다.
스큐는 콜옵션과 풋옵션의 내재변동성 차이를 나타냅니다.
암호화폐 자산관리 업체 블로핀(Blofin) 소속 변동성 트레이더 그리핀 아던(Griffin Ardern)은 "시장 심리가 오랜 시간에 걸쳐 중립으로 돌아왔다. 시장이 바닥에 도달했다는 중요한 신호"라고 진단했습니다.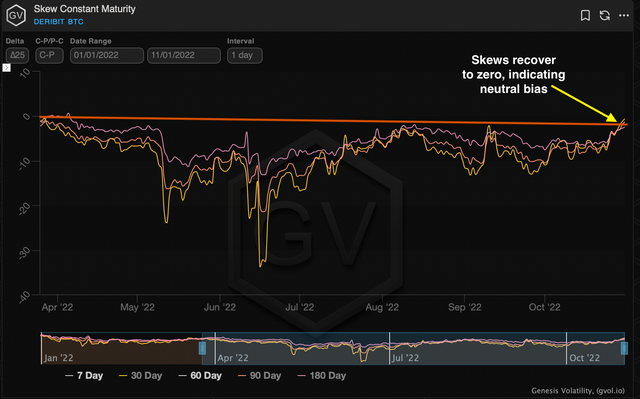 The options market tracking bitcoin (BTC) suggests that the once-overwhelming fear of an extended slide has subsided, a sign that the worst may be over for the price of the cryptocurrency.
For the first time since March, both long-term and short-term skews have climbed to zero, which indicates that the demand for puts or downside protection relative to calls or bullish bets has weakened. Skew measures the spread between the implied volatility of calls and puts.
"The market sentiment has returned to neutral after a long time," Griffin Ardern, a volatility trader from crypto asset-management firm Blofin, told CoinDesk. "That's one of the important signals that the market may have found a bottom."
Reference
Bitcoin Options Market Signals Bottom as Skews Climb to Zero