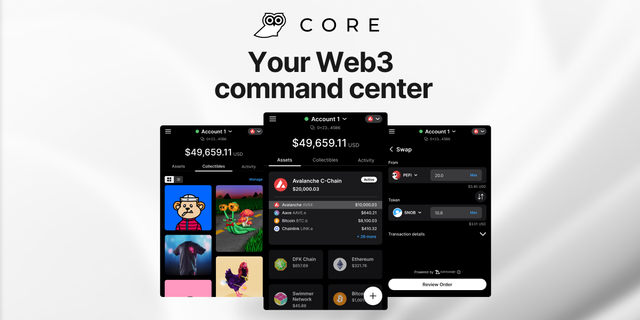 아발란체(Avalanche, AVAX) 개발사 아바랩스(Ava Labs)가 22일 아발란체 기반 올인원 웹3 운영체제 코어(Core)를 출시했습니다.
현재 해당 확장 앱은 구글 크롬 및 앱스토어에서 다운로드해 사용할 수 있습니다.
코어는 아발란체 기반 디앱, 서브넷, 브릿지, NFT 등을 하나의 브라우저 환경에 통합하는 올인원 운영체제입니다. 아발란체에서 Web3의 모든 기능에 액세스하는 가장 쉬운 방법으로, 포트폴리오에 새 토큰을 추가하는 것과 같은 번거로운 기능이 이제 자동화되기도 합니다.
Ava Labs has released Core, a non-custodial browser extension engineered for users to seamlessly and securely use Web3 powered by Avalanche.
You can now download the free Core browser extension from Google Chrome's App Store.
Powered by Avalanche, Core is an all-in-one operating system bringing together Avalanche apps, Subnets, bridges, and NFTs in one seamless, high-performance browser experience. As of its release today, Core is the easiest way to access the full power of Web3 on Avalanche. Core users will find that often cumbersome functions, like adding new tokens to your portfolio, are now automated.
Reference
Ava Labs Releases Core, an All-In-One Web3 Operating System for Avalanche