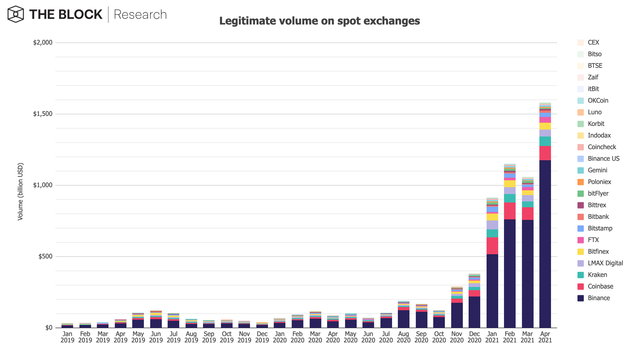 4월 규제 적격 암호화폐 거래소 현물 거래량이 1.58조 달러를 기록하며 사상 최대치를 기록했습니다. 3월 1.06조 달러 대비 약 49% 증가한 수치입니다.
Data collected by The Block Research shows that spot trading volumes on legitimate exchanges hit a new all-time high for April.
As noted by The Block's Lars Hoffmann, the exchanges listed below saw a collective $1.58 trillion in spot trade volume last month.
The $1.58 trillion figure represents a 49% increase compared to March's $1.06 trillion.
Reference
The Block, Spot trading volumes on legitimate crypto exchanges hit $1.58 trillion in April
계속되는 불장으로 거래소는 수수료 수입이 엄청나겠어요.
하긴 업비트 제휴된 케이뱅크만 해도 올해 1분기 펌뱅킹 이용 수수료로 50억4100만원을 벌었다고 하니, 거래소들은 장난 아니게 벌었겠습니다.