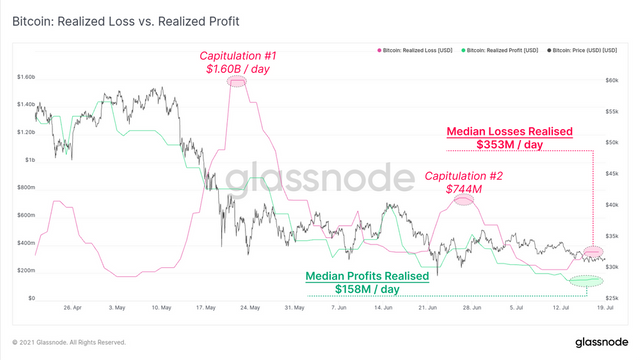 어찌보면 당연한 이야기겠지만, 현재 거래되고 있는 비트코인의 대부분은 최고점 부근의 투자자에 의해 판매되며 손실을 실현하고 있습니다.
또한 현재 비트코인의 33%는 3만달러 이상의 가격에서 구입됐으며, 이에 따른 미실현 손실을 보유하고 있습니다.
비트코인은 올해 1월까지 해당 가격대를 기록한 적이 없기 때문에 모두 단기 보유자에 속한다는 설명으로, 장기 보유자는 현재 유통량의 75%를 보유하고 있으며, 현재 추세를 따라 80%까지 증가할 전망입니다.
아래 차트는 순환 공급의 33%에 해당하는 약 620만 BTC가 현재 미실현 손실을 보유하고 있음을 보여줍니다.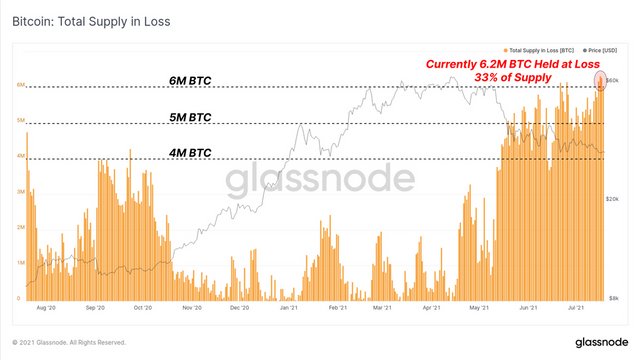 Of the transaction volume that is being settled, a dominant majority appear to be coins realising losses. If we compare the total value of realised losses and profits, we see losses (pink) have consistently been larger than profits (green) since the sell-off in May.
Median losses this week were around $353M per day, more than 2.2x greater than the $158M/day in realised profits. Whilst these volumes are much lower than the two capitulation events ($1.60B and $744M respectively), this demonstrates that investors holding underwater positions continue to spend and sell their coins.
We can also assess how much of the coin supply remains underwater to gauge how much supply may become additional sell-side pressure.
The chart below shows that approximately 6.2M BTC, equivalent to 33% of the circulating supply is currently holding an unrealized loss.
Reference
Glassnode, The Week on-chain (Week 29, 2021)