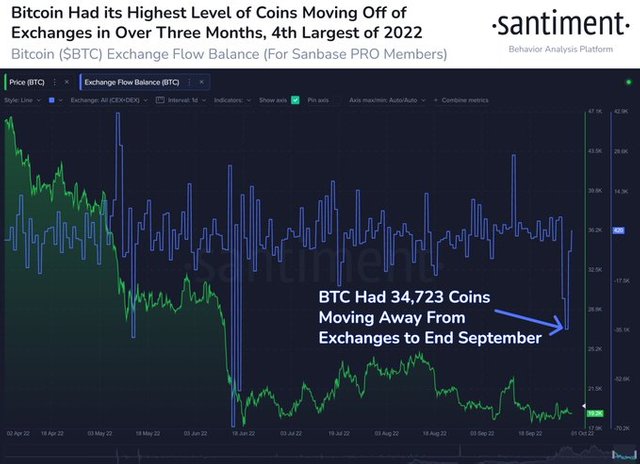 온체인 분석 회사 샌티멘트(Santiment)에 따르면 9월 30일 34,723 BTC가 거래소에서 출금되어 3개월 만에 최고치, 2022년에는 4번째로 큰 비트코인 이동을 기록했습니다.
온체인 분석 회사 크립토퀀트(CryptoQuant)는 교환 준비금이 지난 3일 동안 60,000 BTC 이상 감소했다고 밝혔습니다. 몇 달 간의 가격 하락 후 시장에 수요가 복귀한다는 신호일 수 있다고 말합니다.
거래소 유출은 여전히 ​​긍정적이지만 거래소의 공급이 줄어들면 시장 참가자의 판매 압력이 낮아질 수 있습니다.
암호화 분석가 윌 클레멘테(Will Clemente)는 비트코인 역사적으로 긍정적인 4분기를 강조합니다. "역사적으로 4분기는 비트코인의 최고 성과였으며 평균 분기별 수익률은 +103.9%였습니다. 10월과 11월은 평균 수익률이 각각 24%, 58%로 개별 달 중 최고 실적을 기록했습니다.
On-chain analytics firm Santiment reports that 34,723 BTC moved off exchanges Sept. 30, marking the highest in more than three months and the fourth largest Bitcoin move in 2022.
In its most recent analysis, on-chain data analytics firm CryptoQuant notes that exchange reserves have decreased by more than 60,000 BTC during the last three days. It states that this remains the highest amount in months and might be a sign of demand returning to the market after months of price declines.
While exchange outflows remain positive, less supply on exchanges might imply lower selling pressure by market participants.
Will Clemente, a crypto analyst, highlights a historical positive Q4 for Bitcoin "Historically Q4 has been Bitcoin's best performance by far, with an average quarterly return of +103.9%. October and November have been its best performing individual months with avg returns of 24% and 58%.
Reference
Over 34,000 BTC Moved off Exchanges in Single Day, What This Implies for Bitcoin Price