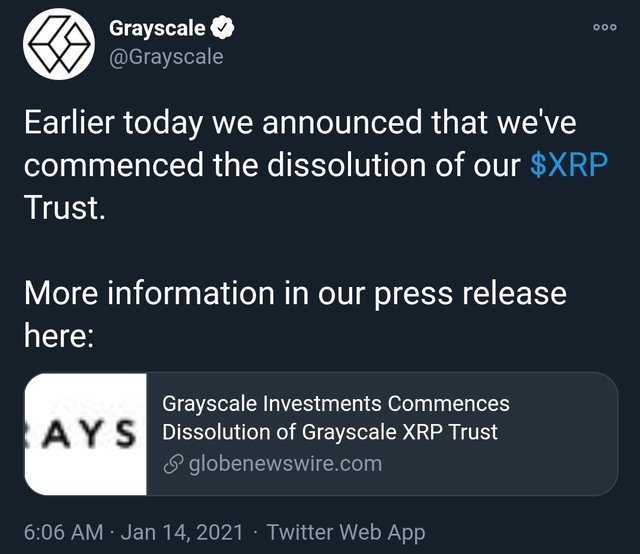 그레이스케일이 XRP 신탁 운영을 중단한다고 발표했습니다.
그레이스케일 측은 "미국 증권거래위원회(SEC)와 리플간 소송 영향으로 이미 다수 주요 플랫폼이 XRP 거래 지원 등 조치를 취한 상태다. 자사 또한 XRP 신탁 해체 작업을 진행 중이다. (신탁을 포함한 관련 투자 상품에 투자하는) 미국 투자자에 있어 XRP의 달러 환전 및 관련 신탁 운영이 점점 더 어려워질 수 있다고 판단했다. XRP 청산 작업은 이미 진행되고 있으며, 수수료 제외 후 적정 수준의 준비금을 지급, 순 현금 수익금을 신탁 주주에게 분배할 예정이다. 이후 신탁 거래 지원은 완전 종료된다"고 설명했습니다.
Grayscale Investments, the world's largest digital currency asset manager and sponsor ("Sponsor") of Grayscale XRP Trust (XRP) (the "Trust"), announced that it has commenced dissolution of the Trust following the Securities and Exchange Commission's December 22, 2020 decision to file a federal court action against certain third parties asserting that XRP is a "security" under federal securities law.
In response to the SEC's action, certain significant market participants have announced measures, including the delisting of XRP from major digital asset trading platforms, resulting in the Sponsor's conclusion that it is likely to be increasingly difficult for U.S. investors, including the Trust, to convert XRP into U.S. dollars, and therefore continue the Trust's operations.
In connection with the dissolution, the Sponsor has liquidated the Trust's XRP and intends to distribute the net cash proceeds to Trust shareholders, after deducting expenses and providing appropriate reserves and subject to any applicable withholding. The Trust will terminate following distribution of the net cash proceeds.
References
Grayscale Twitter
GlobeNewswire, Grayscale Investments Commences Dissolution of Grayscale XRP Trust