It seems that yesterday's article Darthknight = blocktrades = alpha = ... so on. included too much contents.
So for this article, I will simply focus on two things, briefly.
(1) Darthknight(Blocktrades) is a blatant liar.
(2) Darthknight is an alt of Blocktrades.
other issues such as 22.2, 22.8888 will be discussed in a different article to avoid unnecessary confusion.
---
1. Darthknight is a blatant liar.
@darthknight was created on February 11.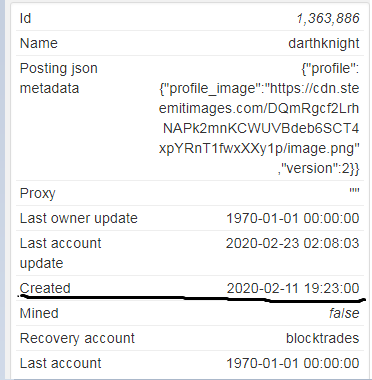 This is his first post: link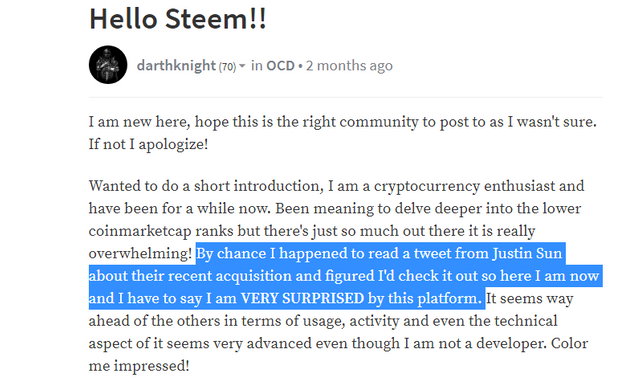 We all know that Justin Sun bought Steem Inc. on February 14 .
And he claims that "I happened to read a tweet from Justin Sun about their recent acquisition and figured I'd check it out and so here I am now".
What??? You already made an account a couple of days before the tweet... do you time travel? I don't think so... and you are simply lying from the very beginning.
---
In addition, this guy is not a new person as he claims in the first line: "I am new here".
As we will see in the next section, this is another lie, as this account is an alt of blocktrades.


---
2. Darthknight = Blocktrades
We all know that if A=B and A=D, then B=D.
A is @alpha, B is @blocktrades, and D is @darthknight.
A=B is clear: for example, blocktrades received Steem from @steemit with memo "owed payment to Blocktrades".

---
Now A=D part.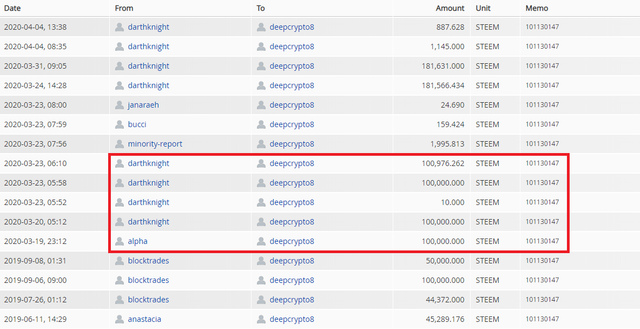 alpha and darthknight use the same Binance account. See that they use the same memo 101130147.
It does not matter whether blocktrades facilitated the token swap transaction or not: alpha and darthknight have sent to the same Binance account, more than 100,000 STEEM, many times.
---
It does not matter whether blocktrades owns like 100 alts - who cares? it's not relevant at all. All I point out is that alpha = blocktrades = darthknight.

As @timcliff and others mentioned, as blocktrades is an exchange, "it is possible that all of these linked transactions can be explained by users who are buying and selling Steem via the BlockTrades.us exchange." However, as @timcliff also pointed out, "The ones using the same memo are obviously the same user", and this part is all we need to confirm that alpha = darthknight.
---
Beneficiary setting:
50% for @faki who provided the account creation time info as a reply to the previous article.
50% for @donekim who summarized A=B=D explanation in Korean: [STEEM] Blocktrades = Darthknight인 아주 간단하고 명백한 이유