Except Steemit, I haven't done any other SNS(facebook, twitter, etc) for several years. And I haven't felt any need to do them too.
However, while going through these STEEM/HIVE controversies, now I wonder whether I should start twitter.
It seems that the effect of twitter is much more than what I had imagined.
스팀잇 빼고 페이스북이나 트위터 같은 SNS를 하질 않았고, 할 필요성도 못 느꼈습니다. 그런데 이번에 스팀/하이브 사태를 보고 있으니, 트위터를 해야 하나 생각이 드는군요. 트위터의 영향력이 제 생각보다 훨씬 크네요.
---
I still don't understand why people who praise decentralization uses twitter to call "famous figures" like Vitalic Buterin.
Is he like a judge or GOD to you? Why do you ask for someone who don't even use STEEM to decide what is correct or wrong for STEEM-related issues?
And that really sounds like asking for a "centralized" decision. Irony.
아직도 왜 탈중앙화를 찬양하는 자들이 트위터에서 비탈릭 부테린같은 유명인들을 호출하는지 모르겠습니다. 이 사람이 무슨 신이나 재판관인가? 스팀을 하지도 않는 사람에게 왜 스팀 관련 이슈들이 맞고 틀리는지 물어보는건지?
그리고 이건 아무리 봐도 "중앙화" 된 결정을 추구하는 것 같아서 더 이상합니다.
---
Moreover, why people who use certain platform (STEEM or HIVE) uses twitter to discuss?
It merely shows incompetency, or insecurity.
Basically you are telling outside that you are not capable of doing something by yourself and you simply rely on others and/or you are looking for shallow relationship/support.
그리고 스팀/하이브 같은 자체 플랫폼의 사용자들이 왜 트위터에서 논의하는지도 모르겠군요.
그냥 무능력함이나 불안정함만 보여주는듯.
이건 외부에 자체적으로는 뭔가 할 수 없다고 말하는 것과 같고, 남들에게 의존하거나 얕은 관계 형성 따위를 추구하는 것 밖에 할 수 없다는 것과 같죠.
---
I don't think I can do twitter in addition - given limited time and attention, for me writing one article and reading what my friends wrote already takes more than what I can afford.
However, I still got confused - why STEEM-related issues are not discussed on STEEM or based on articles on STEEM? It seems that in most cases people - including Binance CEO CZ - rely on twitter for gathering information about STEEM.
I still find it very strange, but if the world works in that way, I guess I should adjust myself.
하루에 스팀잇에 글 하나 올리고 댓글 달고 이웃들 글 읽기도 벅찬 상황에, 트위터를 추가로 하는 건 현실적으로 무리일 것 같긴 합니다.
그런데 이번 바이낸스 사태도 그렇고... 아무도 스팀 관련 내용인데 스팀 글을 안 읽고 트위터 정보만을 바탕으로 판단하려 하는 것 같아요. 너무 이상한데, 세상이 그렇다면 일단 적응해봐야겠죠.
---
Oh, by the way, best twit that summarizes recent STEEM hardfork 23, from Binance CEO CZ: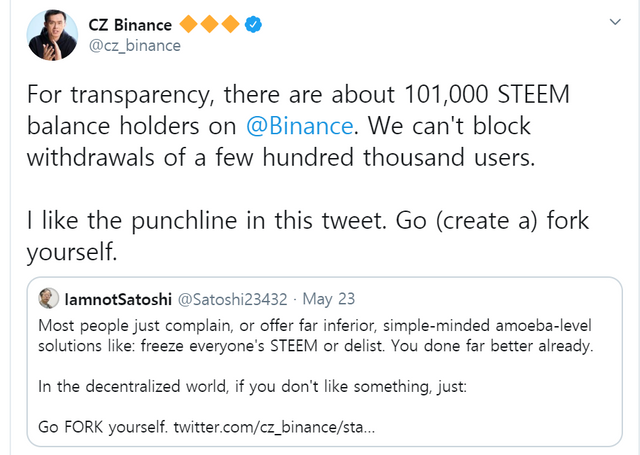 Go F%&K yourself.
아, 그리고 이번 스팀 하드포크 관련 최고의 트윗입니다 (바이낸스 대표 CZ):
억울하면 니가 포크하던가.