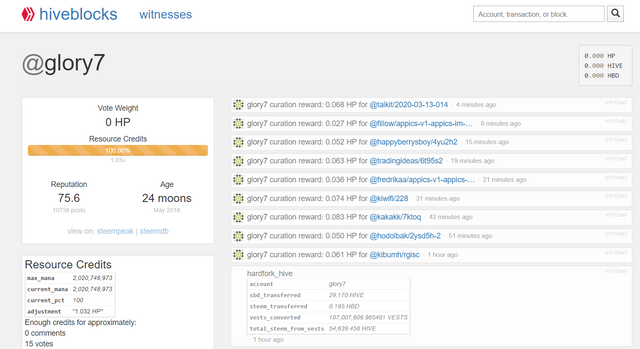 3일 전 하이브 발표하면서, 하이브 진행 프로젝트를 진행한 메인 증인 blocktrades의 인터뷰가 실렸습니다.
중간에 이런 부분이 있죠.
For this initial hard fork, one key thing will change: The tokens from the original development fund controlled by Steemit will not be carried over to the new chain. Everyone else's will be ported over.
하드포크에서 변경될 한 가지는, 스팀잇 소유의 개발 기금 토큰들은 새 체인으로 넘어가지 않을 것이다. 모든 다른 사람들의 것은 넘어간다.
뒤에 확인되듯이, 거짓말입니다. 자기들 마음대로 이상한 규정을 정해서 에어드롭을 제외하죠.
그리고 또 거짓말입니다. 여기서는 안 넘어간다고 해놓고, 실제로는 하이브에서는 스팀잇 재단 계정의 스파를 자기들이 대신 관리하겠다고 합니다.
---
그리고 자금은 어떻게 댈 것이냐는 질문에는, 본인이 직접 올린 포스팅에서 이렇게 말합니다.
Does the community have the resources to launch a blockchain?
Yes, we do. It's actually much easier for us to launch a chain, because of the many lessons we've had operating the Steem blockchain. And as far as financial resources go, several prominent Steem stakeholders have privately offered both computing resources and significant financial support, including my own company, BlockTrades. Even at this early stage, I'm utterly convinced we have sufficient support to launch and develop this new blockchain.
한마디로, 몇몇 자신을 비롯한 몇몇 스팀 주요 홀더들이 재정 지원을 약속했다고 합니다.
여기서도 스팀잇 재단 소유분을 지금 스팀에서 SPS 쓰는것처럼 자기들이 멋대로 쓰겠다는 말은 하나도 없죠.
---
자, 실제로 어떻게 되었나 볼까요?
그 다음날 나온 hive 명의의 공지에서는 없던 조항이 갑자기 추가됩니다.
The only accounts who will not be included in the initial airdrop are those containing the Steemit Inc ninja-mined stake, and those who actively contributed to (and publicly declared support for) the centralization of the Steem Blockchain.
에어드롭 제외 계정이 스팀잇 재단 보유량에 갑자기 "스팀 블록체인의 중앙화를 지지한 사람들" 이란 조항이 들어갑니다.
없던 문구가 추가된것도 이상하고, 이렇게 조항이 애매한 것도 이상하죠.
궁금해서 댓글로 물어봤습니다. 구 증인파 열성 지지자들이 와서 비난하기 시작하더군요.
그래서 내가 뭐 못 물어볼 거 물어봤나? 하고 댓글 리스트를 보니, 이미 neoxian 등에서 똑같은 질문을 했습니다.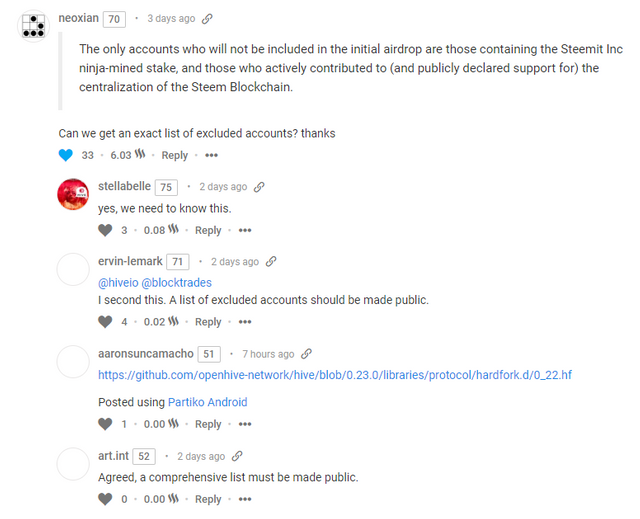 ---
영원히 댓글에 대한 대답은 없었고, 하드포크 11시간 전쯤인 오늘 정오 무렵 깃헙 코드가 공개되었습니다.
여기에 보면, 저스틴 계정들을 제외하고 에어드롭 제외 계정들이 쭉 나열되어 있습니다. 제외되는 조건은
Accounts excluded who voted a minimum of two sockpuppets or proxied someone who voted a minimum of two and who didn't unvote before the hive announcement with more than 1k sp
2개 이상의 저스틴 증인 계정에 투표했거나 그런 계정에 프록시를 주었고,

하이브 발표 전에 투표를 취소하지 않았으며,

스파가 1천 이상.
?????????????????????????????????????????????????????????????????
대체 이런 어이없는, 말 그대로 주관적이며 랜덤한 기준은 대체 누가 무슨 원칙으로 세운 것이지?
그리고 이게 공개되면서 화제가 됩니다. 어이없다는 주장이 꽤 많았구요.
어디서든 열성 지지자들의 목소리가 큰 것처럼 저런 댓글들에는 마치 다 하이브 찬양하는 방향인 것 같지만, 실제로는 그렇지 않죠. Splinterlands 디스코드만 가봐도 한국 유저들을 저런 기준으로 제외하는건 어이없어합니다.
설마 저걸 저대로 실행할까, 하는 생각을 하면서 일단은 기다려 보았습니다.
---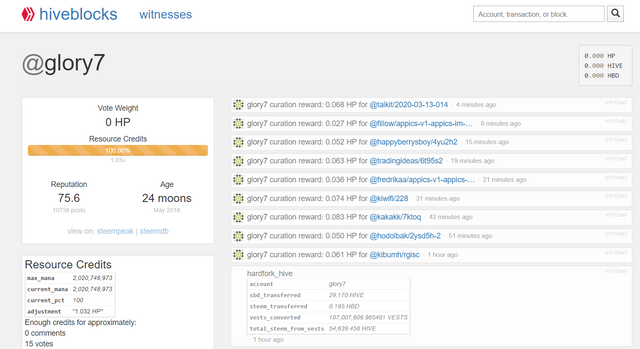 하이브 포크 돌아가고 나서 확인해보니, 진짜로 안 줬군요. 와우.
탈중앙화를 명분으로 삼는 자들이 자기들 입맛대로 몇명이서 몰래 중앙화되어 결정을 하고
검열에 거품 물고 반대한다는 자들이 자기들 의견에 찬성하지 않는다고 검열해서 에어드랍 배제하는군요.
진짜 어이가 없어서 헛웃음이 나올 지경입니다.
---
마지막으로 스팀잇 계정 소유 스파. 이거를 배제하는게 주 목적이라고 그렇게 말해대서 당연히 소각하는줄 알았습니다.
그런데 하드포크 몇 시간 전에 미디움을 통해서 발표한 것에는 내용이 다릅니다:
One of the most important and exciting features of the Hive blockchain is the trustless "Decentralized Hive Fund" (DHF) development model which allows community management for a portion of the airdrop earmarked as development funds. To maintain the overall supply of Hive at the same level as Steem for launch, a portion of HIVE tokens will be airdropped to the Hive dev fund to create a robust resource pool for decentralized development. These funds will not be usable during the launch period until a future Hive hardfork upgrade is deployed to continuously liquefy the tokens over time to prevent market flooding.
출시 때 총 하이브 발행량을 스팀 발행량과 맞추기 위해서, 하이프 펀드라는 곳에 에어드랍 안한 물량을 다 넣어놓겠다는군요.
말이 애매하죠? 그런데 잘 생각해보면, 에어드롭 안한 물량은 저스틴 계정 물량과 자기들 지지하지 않았다고 빼겠다고 한 계정들 (glory7이라던가...) 물량입니다. 달리 말해 그걸 소각 안하고 자기들이 보관하겠다는거죠. 그리고 나중에 SPS처럼 개발기금으로 쓰고.
이거 관리는 누가 할까요?
당연히 구 증인들이죠. 한마디로 저스틴 것을 뺏아서 자기들이 관리하겠다는겁니다.
아래 달린 댓글 중 하나가 제 반응을 그대로 대변합니다:
So you guys are taking the ninja-mined stake and using it? LOL.
그러니까 너희들이 닌자 마이닝 물량 가져다가 쓰겠다는거지? 아 웃긴다.
---
탈중앙화를 외치는 자들이 22.2 소프트포크도 그렇고 이번도 그렇고 대놓고 자기들끼리 커뮤니티와 아무 논의 없이 정하고,

검열 저항을 외치는 자들이 지들 멋대로 자기들 전적으로 지지하지 않으면 에어드롭에서 제외하고,

2~3일전 공지한 것을 바로바로 말 바꾸고.
이런 쓰레기같은 자들이 지금까지 메인 증인들입네 인플루언서네 하면서 스팀 거버넌스를 이끌었다니 기가 막힐 따름입니다.