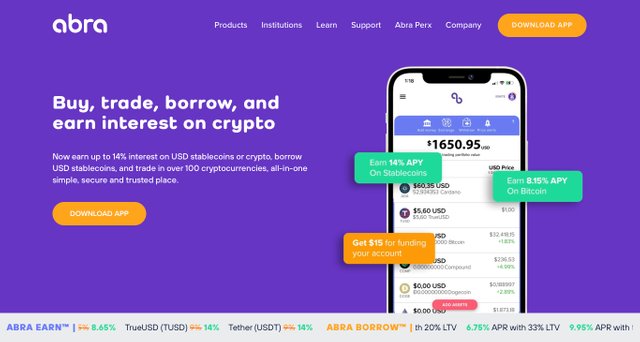 Now most of major CEX have their own coin. BNB, HT, FTT, BIT, CPRX.
As Crypto become more popular and need to attract more people, CEX's role could be more wide and deeper.
ABRA has its own coin $CPRX. Since its coin launch, the price had decrease continuously.
This sort of simple app and exchanges have very easy-to-approach interface and similar function like conventional banking app.
Soon this sort of simple app and CEX could spread their area attracting more people in US and then western Europe.
In this downturn, it would be required to see future high growth potential sector and upcoming change. The change and revolution may undergo without price explosion for several months or some years. But evolution will go silently and killing unnecessary overvalued sector and protocols.
P.S. in Korean
스팀 멤버 중 일부가 뭔가 새로운 디파이를 만들었나 봅니다. 혹은 해당 프로젝트에 참여했다 봅니다.
(스팀잇 인원을 끝어들일 수 있다는 역할이 주요할 것으로 보입니다.)
유동성이 1M 안되어서 언제든 대폭락해도 이상하지 않으며
신뢰성도 검증이 안되었고
발행량도 무제한일수 있으며, 디파이측에서 대부분의 코인을 보유하고 있을 가능성이 매우 높아서, 가격 올린 후 설거지 당하기에 매우 이상적이며
가입인원은 겨우 스팀인원 + alpha로 보이고
예전에 계속해서 스팀사람들 돈을 (우리가 남이가? 홍보로) 빨아들인 후 이후 대폭락했던 역사가 매우 빈도수가 높기에(기억으로는 100% 가까운 수준)
참여하지 않기를 추천합니다.
BSC 기반으로, 개발을 동남아, 중국에서 하거나 한국스팀 인원이 개발하고 스팀사람들을 끌여들여서 가격 올리는 전략 같습니다.
스팀 유저들은 아주 좋은 손쉬운 사기 대상임을 스스로 인지하시고, 특히 같은 스팀잇 가족끼리 좋은 정보를 공유하는 것 처럼 올라오는 글과 권유를 경계하시기를 권장합니다.
정말 투자가 하고 싶으시면, 차라리 스팀을 더 사시거나 루나, 솔라나등 글로벌 하게 검증된 코인을 구매하시면 Staking 하고 높은 이자를 받으면서 높은 성장가능성을 볼 수 있습니다. 수백% 이상의 APR을 바라보다보면 대부분 망하게 됩니다.
해당 분야에 경험과 지식이 있다면 올림푸스 다오 같은 글로벌 프로젝트에서 적당히 수익을 낼 수 있으나, 지식이 없으면 들어가지 않는 것이 더 돈을 아끼는 길입니다.
동네 골목에서, 순진하게 지내다가 동내 건달에게 당하는 상황을 만들지 말았으면 합니다.