Polkadot's Crowdloan has made big wave recently for individual investors who may be very hard to get in big project early stage investment.
Private investors who own small amount of money could join in any high potential projects through Crowdloan.
I also joined one of project of Kusama parachain Crowdloan program. That was a Bit.Country and Metaverse.Network.

Bit.Country is the platform for everyone to create metaverses and make their own utilities earning money and gathering community members and so on with Map, 3D World, games, economies and governance.
This metaverse platform is build on Metaverse.Network that is its own blockchain.
Metaverse.Network is developed by using Substrate developed by Parity on the Polkadot ecosyste.
Bit.Country have the vision and plan to empower their users to architect their own metaverse amd launch their own metaverse.
Metaverse.Network allows developers to launch their own Dapp but also use their metaverse on Bit.Country as an app store.
Native Token NUUM
NUUM is the native coin on the platform and also used for the metaverse.network protocols.
NUUM would be a universal currency of purchasing resources, gas fees for tansactions, advertising, and promotions.
Total 1Billion tokens
50% for public sale, crowd loan and son on
25% for private backers, investors
20% for the team
5% for community growth
Land
Total land blocks supplied is 100,000.
The distribution of land block os released through auctions and grants
Private: 10%
Ecosystem Growth: 10%
Public NFT sales: 7%
Treasury: 73%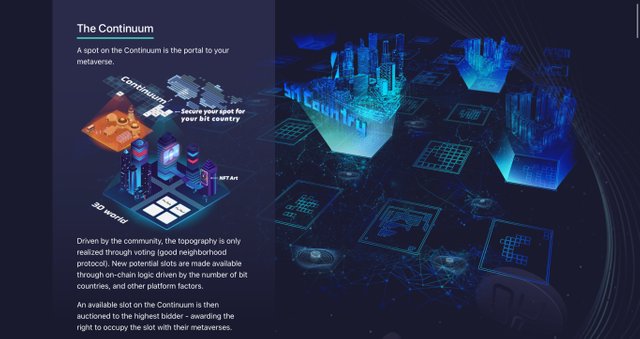 Polkadot's crowdloan gives good opportunities for relatively small size projects who have good potential and small scale private investors. But in the lightning speed of crypto world, the development and integration of all different sort projects make me a bit tired.
Even though Polkadot would combine all those projects as a big center, I am still not so sure if it would be efficient like one chain projects.
In my view, the good point is that I have the opportunities to see high potential projects in early stage. We need to see closely what we can get from all this projects neat future.
In 2022, we would meet a variety of metaverse projects and their won world. Good luck to Bit.Country to survive and attract more people.