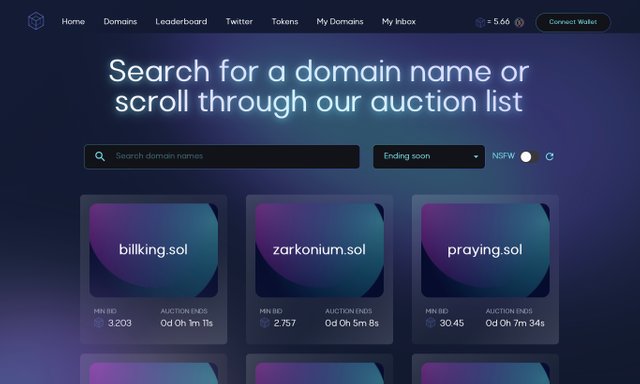 I got my Domain Name finally in Solana ecosystem via Bonfida naming
It's very easy to have your own domain name in SOL ecology. Just connect to Bonfida name service website with your Solana wallet(Phantom, Solflare, Sollet.io, Blockto, Mathwallet etc.) and search for whatever you want to have as your domain name.
As it's passed several days since its first service launched, many popular domain names already have been acquired by early birds. But it's not necessary to be disappointed.
If you add suffix to popular words such as Sun, Love, Wind, Blue or it's fine to have longer name, it may not be difficult to have your own domain name.
Please do not have so much expectation of token airdrop. Bonfida already has had its own token that is oldest coin among Solana chain based token. I did this just to prepare for upcoming wide usage of blockchain and crypto and learn how it works and just for fun.
The domain name is acquired via auction process. If you open any specific domain name for auction process, you can bid for it. The competition is not so dense that worry to compete with thousands of other users.
Each auction will last almost 2~3 days to finalize. One of my tips to win your preferred domain name is to check it in the last 30 minutes time zone closely to prevent any unexpected bidder.
If any new bidder participate in with higher bidding price, you can react to that with higher price to get it.
It is required to check which DeFi and protocols support this name service before making transactions with these names.