Credit Suisse executives spent the weekend reassuring large clients, counterparties and investors about its liquidity and capital position, the Financial Times reported on Sunday.
Executives made the calls after spreads Credit Suisse credit default swaps (CDS), which offer protection against a company defaulting, rose sharply on Friday in an indication of investor concerns, the newspaper said.
CDS: Credit Default Swap (CDS) is a financial derivative that allows an investor to swap or offset their credit risk with that of another investor. To swap the risk of default, the lender buys a CDS from another investor who agrees to reimburse them if the borrower defaults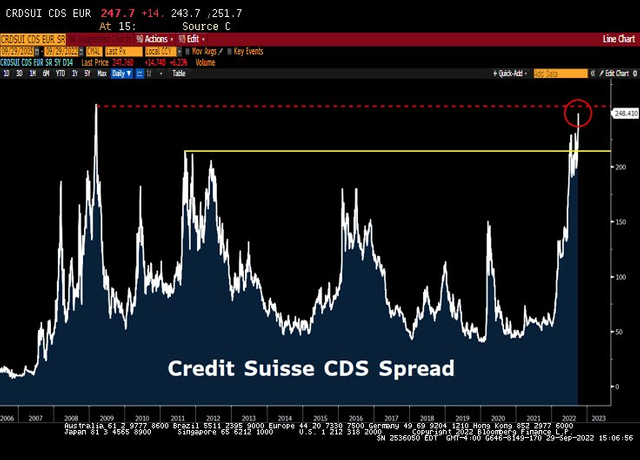 Credit Suisse five-year credit default swaps (CDS) jumped 6 basis point to close to 247 bps on Friday, the highest level in at least 10 years, S&P Global Market Intelligence data showed.
The five-year credit default swaps price of about 293 basis points is up from about 55 basis points at the start of the year and at the highest ever, according to ICE Data Services.
At the same time, the shares dropped as much as 12% in Zurich on Monday and have lost about 60% just this year alone, on track for the biggest annual drop in Credit Suisse's history.
Giant banks and cetralized ineffieient giant financial institutions may face difficult times.
Having macro big changes including war, pandemic and high inflation and interest rates, there are many unceratin and fast evolving factors like BTC, crypto and decentralization waves.
This is the time to have rigid ground of basic capability and flexible view on fast changes and revolutionary waves.