DeFi sector has seen huge risks and sharp drop off following Celsius' liquidity issue and the butterfly effect.
DeFi Yield Rate has fallen while an outflow of liquidity keep going on past weeks, especially lending platform.
As of 23rd June 2022, Four-week Treasury bill rate(1.13%) is higher than USDC interest rates on Aave(0.76%) and Compound(0.24%) that are biggest and most popular money market platforms based on Ethereum.
U.S. 4 Week Treasury Bill Rate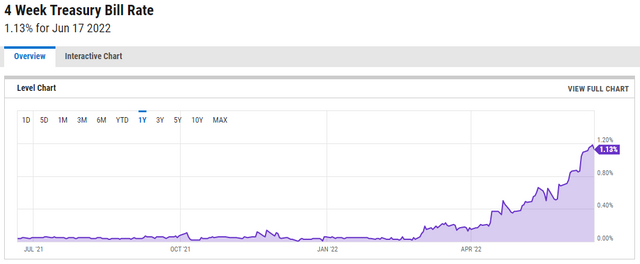 Aave Stable Coin APY


In May, the top four stablecoins market capitalization fell by nearly $7 billion as investors looked to redeem their tokens for cash.
Some analysts and Crypto professionals see this trend as DeFi lending is largely limited to funding short-twerm spevulative trading leverage.
The core matter is a small size, smaller serviceable size that is yet so smaller compared with traditional finance sector.
This is not a structural shortcoming, even though there are major pain points that should be strengthen by protocol and DAO especially on risk managing process and the speed of work.
Source: Blockworks