The newest release from the house of Yuga is a skill-based, endless runner game called Dookey Dash.
The player's score is determined by how long you survive during the endless run, the types of fragments you pick up along the way, and the obstacles you destroy.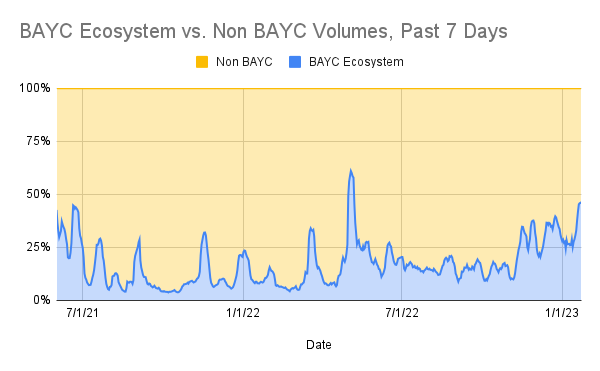 Yuga's other NFT collections are having quite a moment themselves. Volume from Yuga assets nearly reached 50% of the total NFT volume on Ethereum during the past month. Dookey Dash just added fuel to the fire with sales of BAYC and MAYC increasing over 120% in the 24hr following the announcement.
In order to play Dookey Dash, you need a Sewer Pass NFT that can act as your entry ticket.
These can be claimed for free if you happen to own a BAYC or MAYC already. If you don't own one of those, you can also buy a Sewer Pass on the secondary market. There are 4 tiers of Sewer Passes with a higher tier adding more bonus points to your final score.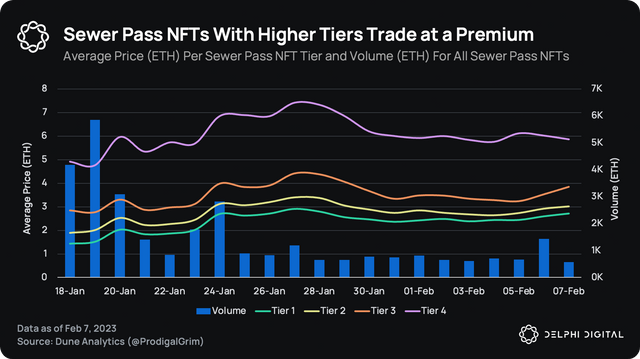 Currently, the lowest tier that offers no bonus can be bought for 2.73 ETH while the highest tier that offers a 30% bonus can be bought for 5.92 ETH. Apart from playing with a higher tier of Sewer Pass, you can also spend APE tokens during the gameplay and buy a Powershart Pack. This is a trio of boosters that lasts for 10 minutes after being bought.
So far, players have spent more than 349K APE tokens in-game (worth more than $2.1M).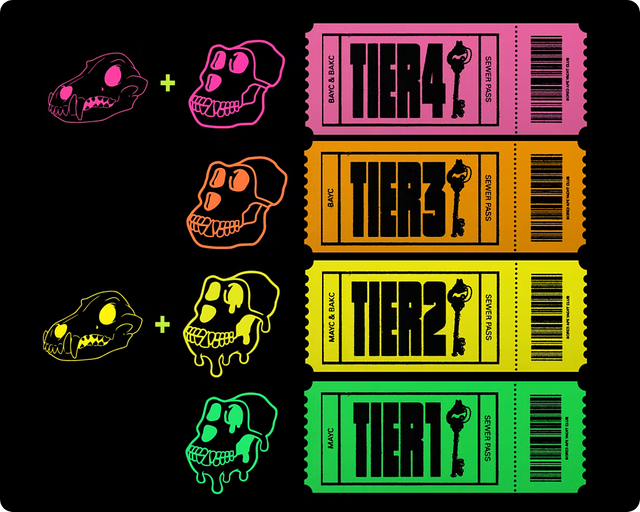 Once you have a Sewer Pass, you can use it to play the Dookey Dash game unlimited times until Feb. 8, 2023. Your score is associated with the unique Sewer Pass and wallet combination used to play the game. So if you sell the Sewer Pass after playing the game, the buyer will not inherit the points you scored in the game.
However, users can store the Pass in a cold wallet and use a delegated hot wallet to play the game.
Users can assign a fresh new hot wallet as a delegate for the cold wallet where the Sewer Pass is stored. This creates an effective way of offering your Sewer Pass out for others to play while storing it in a cold wallet. This feature was initially discussed as a security improvement for Bored Apes which are notorious for falling victim to phishing attacks.
But delegation has opened up the game, and all of its incentives, to players who cannot afford to buy the entry ticket. Sewer Pass holders are now paying professional gamers to play using their Passes to secure a higher score - creating a system where gamers get paid to play. Holders simply delegate their Pass to a hot wallet that is used to play the game. After the game, holders receive the private key to the hot wallet.
This is impactful for two reasons. One, web3 incentives are onboarding professional gamers. The delegation feature enables relationships to form between holders and gamers. Incentives are aligned as holders pay the gamers to compete for them, similar to gamers getting paid to compete for a professional esports team. This can onboard a lot of professional gamers into web3 gaming.
And two, professional gamers are incentivized to promote web3 games. Well-established gamers or teams often have millions of followers on social media. As they advertise their Dookey Dash services, their audience of largely web2 gamers is exposed to the nascent Dookey Dash. Combine financial incentives with a fun game and you also have professional gamers flexing on Twitter when they hit the leaderboard.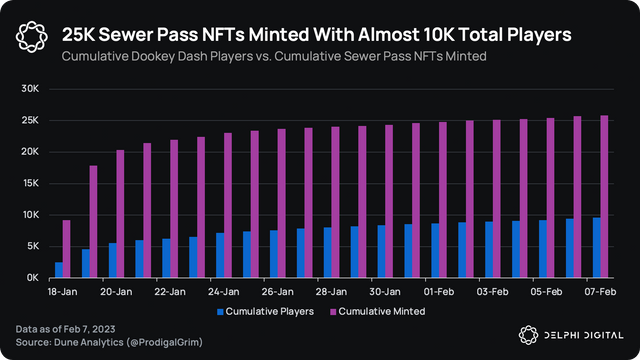 The game is only available for a limited time. You can only claim a Sewer Pass NFT and play the game until Feb. 8, 2023 (there's still time!). After that, scores are frozen. Only the wallet that last played the game with the Sewer Pass will have its high score frozen with the Sewer Pass. Users who hold their Pass until Feb. 15 can participate in the "Summoning" - this is when players with a score higher than 0 can burn their Sewer Pass for a new to-be-announced NFT that can be used in future mini-game sets.
The feature that Yuga Labs applied is already developed in other projects or web3 NFTs, but Yuga Labs is enojoying the full functionality and positive results that are maximized with its highest brand value and marketing skills.
Some high potential Solana projects also have developed many efficient techniques or UI based on efficient chain performance, but still the brand value of BAYC and this sort of business marketing skills are highly competitive that not easiliy allow followers to catch up this top NFT project.
Source: Delphi Digital