Crypto exchange FTX could retain its $32 billion valuation if a fresh billion-dollar fundraising round goes through.
CNBC reported on Thursday that FTX is in talks to raise the capital, just as the price of bitcoin hovers at its lowest point since December 2020.
Discussions reportedly aren't final and could still fall apart.
If FTX does secure its target investment, the valuation would match previous fundraising round in January.
January Funding Round: Raised $400 million in a Series C round in its third raise
Recent Investors
-SoftBank's Vision Fund
-Race Capital
-Tiger Global
-Naomi Osaka(Tennis player)
-Alan Howard(British hedge fund manager)
The exchange was also reportedly looking to acquire investing app Robinhood, in which CEO Sam Bankman-Fried had personally acquired a 7.6% stake in May.
Recent FTT token movement may be related to upcoming deal.


FTT Token Movement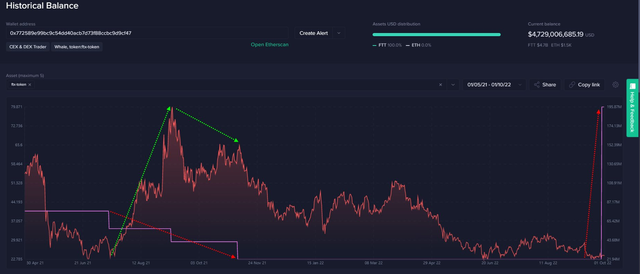 Token Movement in FTX Deployer vs. Price