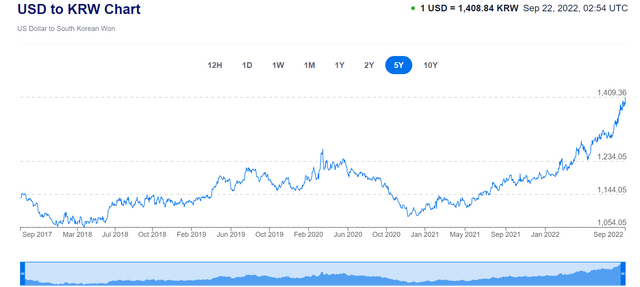 South korea's Won(KRW) fell past the psychologically important 1,400 level against dollar for the first time in 13-1/2 years on Thursday on the U.S. Fed's aggressive tightening.
Won crossed the 1,400-won mark since late March 2009.

The last time the 2 year yield hit 4% was on October 17, 2007.
US debt was $9 trillion in Q4 2007. US debt now stands at $30.5 trillion as of Q2.
61% debt to GDP in 2007 vs 122% debt to GDP now.
The US has literally doubled its debt to GDP ratio in 15 years.
Much critical views are spreading among most of asset markets.
The environment and some major events clearly singal upcoming economy and asset market may be on difficult time. But everything changes as we make changes these environment ourselves to get improved or new wave will come.