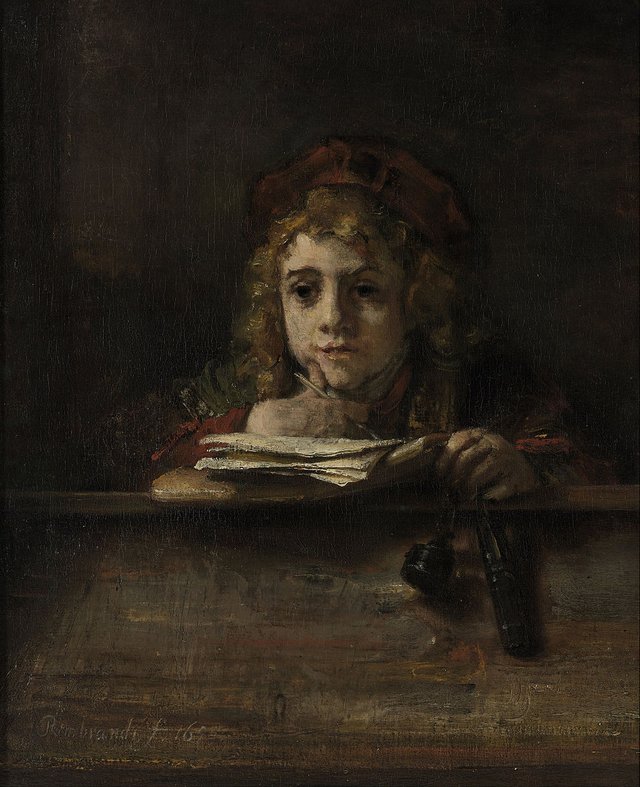 Titus as his desk
Rembrandt van Rijn
1655
In the Museum Boijmans Van Beuningen since 1939
High auction record: £20.2M, Christie's, 2009
It is possible that this is a portrait of Rembrandt's son Titus around the age of fourteen. Slumped over his papers, the boy stares contemplatively into the distance. He holds a pen in one hand and an inkwell and pen case in the other. This painting's remarkable features are the lighting, the triangular composition and the crude, almost expressionistic brushwork in the foreground.
Rembrandt
A prolific painter, draftsman, and etcher, Rembrandt van Rijn was a major artist of the Dutch Golden Age. His zealous preoccupation with direct observation—he's said to have sketched endlessly, taking note of pedestrians, beggars, women, and children—informed his compelling, deeply human portraiture: His canvases convey emotional depth through a keen attention to subjects' gestures, expressions, and features, and through dramatic interplays of light and shadow. Such tonal contrast, known as chiaroscuro, features prominently in Rembrandt's most famous works, including The Night Watch (1642), a monumental painting of militia guards.
Today, the artist is represented in the world's most prestigious collections, including the Metropolitan Museum of Art, the Louvre, the Rijksmuseum, and the National Gallery in London. Of the roughly 300 paintings attributed to the artist, only about 35 are thought to remain in private hands. At auction, Rembrandt's paintings have sold for tens of millions, and his etchings have sold for up to seven figures.
Source: Google Art, Artsy