2020 is a difficult year full of opportunities. The same is true for the cryptocurrency field.

In March of this year, with the raging spread of the global new crown pneumonia epidemic and the impact of the oil price war, on March 12, U.S. stocks triggered the third circuit breaker, the global financial market plummeted, and Bitcoin was not spared, and the price fell below $3,800; After experiencing the plunge, the price of Bitcoin began to slowly rise. On May 12, Bitcoin completed the third halving in history, and the blockchain reward was reduced from 12.5 BTC to 6.25 BTC. 
In the second half of the year, in response to the negative impact of the new crown pneumonia epidemic, countries have begun to implement loose monetary policies, and mainstream cryptocurrencies such as Bitcoin have become investment institutions to hedge against inflation. In addition to gray funds, PayPal, Square, MicroStrategy and Traditional financial institutions such as JP Morgan Chase also entered the market with high profile, and the price of Bitcoin began to soar. Especially at the end of the year, Bitcoin has repeatedly set new highs, and on December 27 it broke through $28,000.
As an important infrastructure in the field of cryptocurrency that "advance, retreat, and defense", the trading platform has shown its vitality in the ups and downs of various cryptocurrencies.
Transaction volume surged
Compared with October, the trading volume of the top 15 exchanges in November increased by an average of 114%. Among them, Binance ranked first with a trading volume of 176.2 billion U.S. dollars, an increase of 133%, and Huobi Global's trading volume was 72.1 billion U.S. dollars. Trading volume ranked second, with an increase of 73%; OKEx trading volume was US$45.9 billion, ranking third, with an increase of 43%; Coinbase, Kraken and Bitfinex were respectively US$30 billion (an increase of 166%) and US$16.6 billion (an increase of 156%) ) And US$12.8 billion (an increase of 198%) in transaction volume followed closely behind.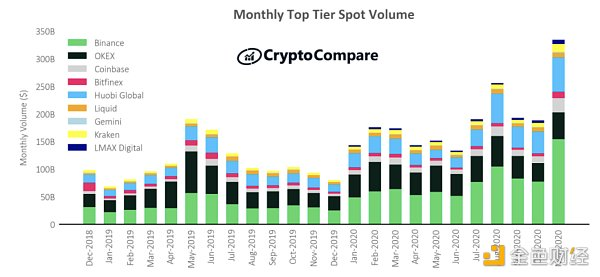 Figure: Spot trading volume of top exchanges since 2018, source: kingdata, CryptoCompare
In addition, the trading volume of cryptocurrency derivatives soared by 108%, reaching a historical monthly high of US$1.32 trillion, accounting for nearly 60% of the entire cryptocurrency market.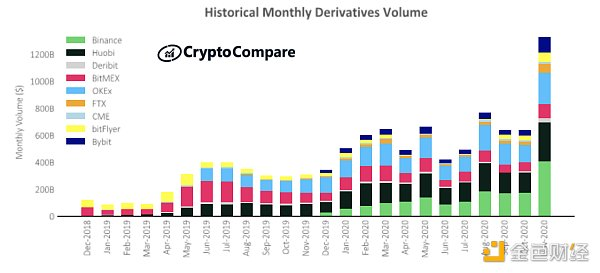 Chart: Exchange derivatives trading volume, source: kingdata, CryptoCompare 
BTC  futures holdings hit a record high
Entering November, BTC futures open interest hit a record high, reaching 8.6 billion US dollars on the 18th. Since the March 12th plunge this year, BTC futures net-wide open interest has fallen from 5.3 billion US dollars to 1.9 billion US dollars, and the current increase has reached 353%. Currently, the top three exchanges in terms of open interest are: CME, OKEx, and Huobi Global.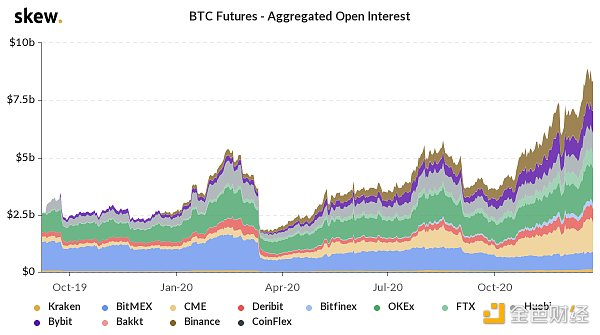 Figure: Trends of BTC futures holdings on various exchanges, source: kingdata, skew
Throughout the year, the two major exchanges, CME and FTX, have the highest increase in BTC futures holdings, which have grown from USD 125 million at the beginning of the year to USD 1.5 billion and USD 123 million to USD 636 million.
BitMex has the biggest drop in position holdings, from the beginning of the year to US$1.5 billion and the current drop to US$747 million, a drop of 50%.
Option Absolute Leader  Deribit 
Options are the new favorite of the crypto derivatives track in 2020. From CME to OKEx, and then to Binance, option transactions have entered successively. However, there is no new player in the crypto option market that can shake Deribit's dominance. From the perspective of growth rate, the growth of the options market this year is mainly from Deribit, which has increased by more than 4 times.
In terms of market share, Deribit occupies 83% of the options market, OKEx: 7%, bit.com 6%, CME: 3%, ledgerX: 1%.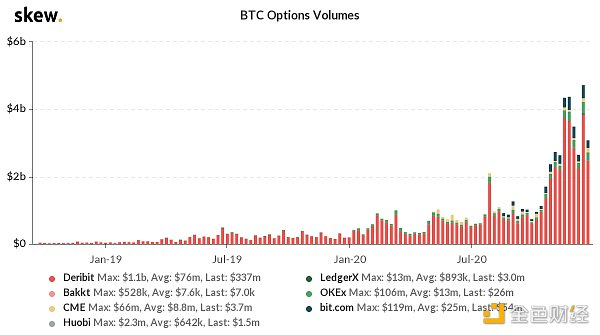 Chart: BTC options trading volume trends of various exchanges, source: kingdata, skew
Huobi Futures position performance 
In the first three quarters of 2020, relying only on the two products of currency-based delivery contracts and currency-based perpetual contracts, Huobi Contract has successfully become the world's largest digital asset derivatives service platform-according to the TokenInsight derivatives report data, The overall trading volume of Huobi Contract continued to rank first in the world in the first three quarters of this year.
For example, in the "2020 Q3 Digital Asset Derivatives Trading Platform Industry Research Report" released by Tokeninsight, Huobi Futures ranked first with a trading volume of US$521.6 billion. The top three exchanges ( Huobi , Binance , OKEx ) accounted for 48% of the entire derivatives trading volume. 
The Huobi currency standard perpetual contract was launched on March 27. After 45 days, the transaction volume surpassed the old-brand BitMEx currency standard perpetual contract, and continued to rank first in the currency standard perpetual contract in the world, and the extent of surpassing BitMEx is increasing. As of November 30, fire coin currency standard perpetual cumulative contract volume reached $ 640.17 billion.
The Huobi USDT standard perpetual contract was launched on October 26, and the trading volume grew rapidly, with an average daily trading volume accounting for approximately 35% of the total trading volume.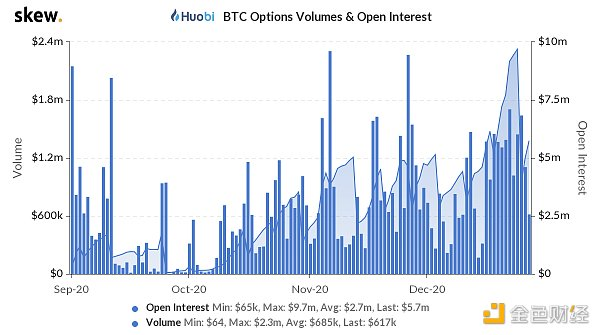 Figure: Huobi exchange options trading volume and open interest trend chart, source: kingdata, skew 
BTC reserves
As of November 30, Coinbase, Huobi, Binance, OKEx and Kraken held more than 1,758,200 BTC, accounting for approximately 9.5% of the total circulation. Coinbase holds the largest number of Bitcoins, 867,400; despite the coin withdrawal storm, OKEx still holds 301,600 BTC, ranking second in reserves.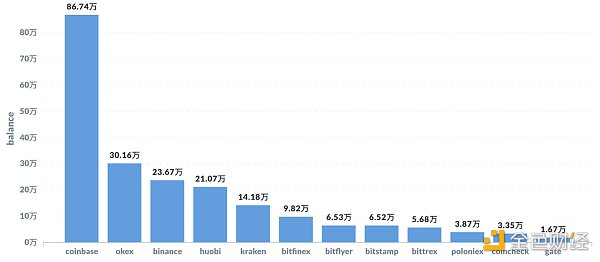 Figure: Comparison of BTC balances of various exchanges, source: kingdata
USDT reserve
As of November 30, Fire currency  USDT holdings most, 56,848,700 USDT, followed by the Kraken, holds 41,876,900 USDT. Compared with Bitcoin, Coinbase and OKEx hold less USDT.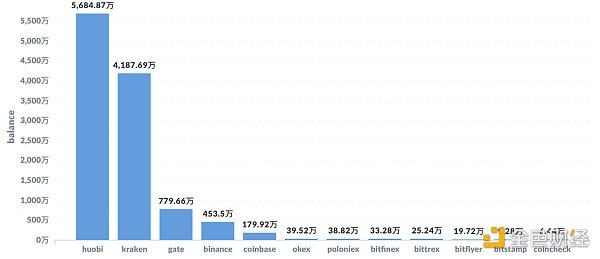 Figure: Comparison of USDT balances of various exchanges, source: kingdata
Subscribers
Although users are no longer concentrated on Coinbase as they did in early 2017, overall, although the BTC price has broken through historical highs, the industry's active users have not made a significant breakthrough. The overall return to the normal level at the end of 2017, the industry's daily active users is 1 million about. If more newcomers come in, it may push the BTC price higher.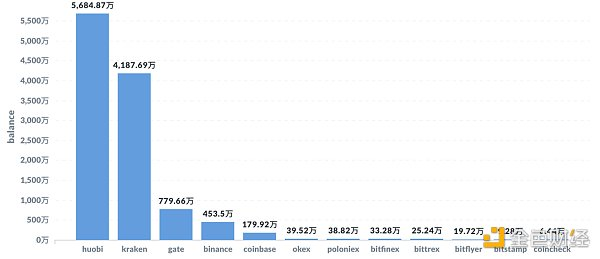 Figure: The trend of daily unique IP visits by exchanges, source: kingdata
Platform currency OKB has the highest annual increase
As of December 28, OKB had the highest increase of 173.33%, followed by BNB with an increase of 153.21%, followed by FTT with an increase of 143.83%. The token GT of the Gate trading platform has a small increase, relatively late, at 28.15%. 
Chart: Exchange platforms posted gains, source: kingdata
DEX fever slows down
This year, with the popularity of DeFi and the emergence of the disadvantages of centralized exchanges, decentralized exchange (DEX) competition has become fierce. The main decentralized exchanges currently on the market include 0X, Bancor, Balancer, Uniswap, Sushiswap, iDex, etc.
According to statistics, as of November 30, there were 1,018,732 independent trading addresses; in the past 12 months, DEX trading volume exceeded 110.256 billion US dollars. Compared with the hot September, the Dex fever has slowed down in the last three months.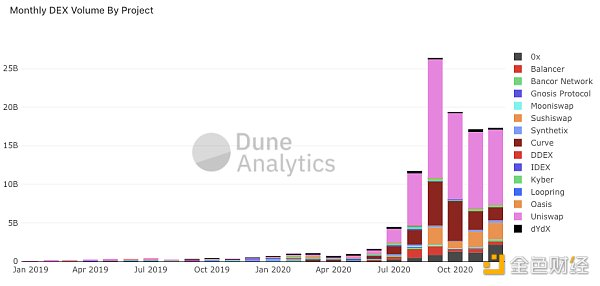 Figure: The trading volume trend of each Dex, source: kingdata, Dune Analytics
Reduced attacks on exchanges 
A total of 5 major cryptocurrency exchange security incidents occurred in 2020, 4 of which resulted in the loss of cryptocurrency and 1 resulted in the theft of user data.
As of the end of November, a total of more than 286 million US dollars worth of cryptocurrency and 200 user data were stolen. In addition, security incidents in 2020 are down by about 58% compared to the 12 in 2019, and stolen funds (US$286,933,760) are down by about 2% compared to 2019 (US$292,665,886). The analysis believes that there are two reasons for this phenomenon: 1. Exchange KYC has become stricter, and the possibility of capturing attackers is higher than in previous years; 2. DeFi platforms have become the main target of attackers.
Conclusion:
The third bull market has arrived. Whether it is investors, trading platforms, miners or investment institutions, they have all geared up and are fully prepared to welcome this bull market.
The road to encryption is always full of temptations and challenges. I hope that trading platforms and other service organizations in the industry will continue to improve their products, be brave to innovate, and continue to break through their own limitations in technology to contribute to the industry and welcome a better 2021.