안녕하세요 @realmankwon입니다.
소스 수정할 것이 있어서 수정하고 서버에 배포를 할려고 하니 다음과 같은 에러가 발생하였습니다.

remote: Password authentication is temporarily disabled as part of a brownout. Please use a personal access token instead.
remote: Please see https://github.blog/2020-07-30-token-authentication-requirements-for-api-and-git-operations/ for more information.
fatal: unable to access 'https://github.com/XXXXXX.git/': The requested URL returned error: 403
personal access token을 이용하여 접속을 하라고 하는군요.
이게 뭔가 싶어서 제공해준 링크로 가 보았습니다.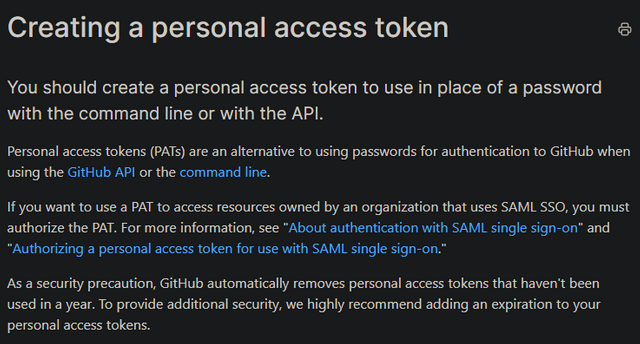 기존의 패스워드 방식이 아닌 token을 생성하고 이걸 기반으로 로그인을 해야한다는군요....
보안은 좋지만 왠지 불편할 것 같은 느낌이... ㅜㅜ
일단 설정을 해 보았습니다.
설정 내용은 링크에 잘 나와 있군요.
결국 token을 생성하니 랜덤키같은게 생성이 되었습니다.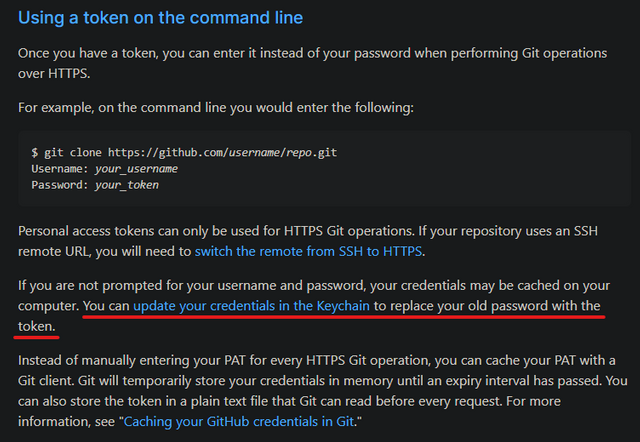 예상대로 로그인 시에 생성된 token을 예전 패스워드 대신에 입력하라고 하는군요.
입력해서 처리는 했는데 암호를 저장하고 사용하던 서버나 컴퓨터에서는 prompt가 뜨지 않아서 패스워드를 초기화 시켜 보았는데 잘 안 되는군요...ㅜㅜ
또 삽질을 했네요 ㅜㅜ
찾은 방법은 다음과 같습니다.
Generate a new token from github's dev settings
Update remote URL git remote set-url origin https://@github.com/<git_url>
pull once: git pull https://@<git_url>.git
역시나 개발보다 셋팅이 더 시간이 오래걸리는군요.