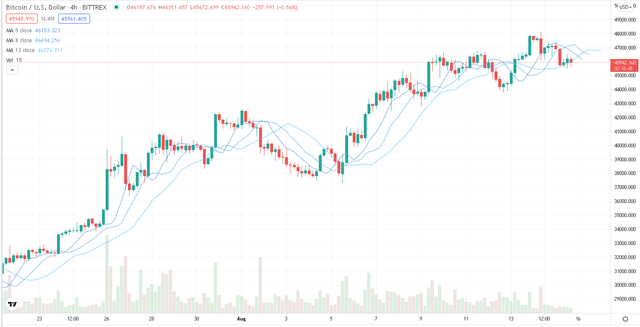 Bitcoin (BTC), which is in the first rank by market cap, declined with increasing sales today. With a surge in sales, over $46,000 was rejected. Bitcoin is currently trading close to the $46000 support zone.
BTC is currently trading at $45942. It has lost about 2% of its value today. The bears want to push Bitcoin further down, but the bulls do not allow it. For now, I don't think Bitcoin will drop further below the solid support area around $46000. Also, BTC's support around 46000 is being tested, unless this support is lost, Bitcoin will not fall any further. On the contrary, these supports will move higher after being tested.
It's normal for Bitcoin to retrace a bit before it can move higher. In addition, these declines offer opportunities for new investors. Bitcoin (BTC) still maintains its uptrend. As I said before, Bitcoin will test to exceed $ 48000 several times. He will eventually succeed. Also, the $48000 resistance is very, very important. If it surpasses $48000 and manages to stay above it, the rise will accelerate further. I think it will exceed $ 50000 this month and hit the new ATH in September.