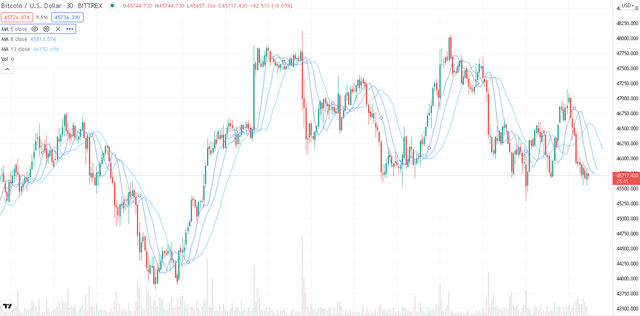 Bitcoin (BTC), which is in the first rank according to the market value, tried to exceed $ 47000 today, but failed. Bitcoin is falling back as it cannot meet the sales around $47000. Around $47000 there is a lot of selling demand, but if he wants to go higher he needs to get over it.
BTC is currently trading at $45717. It has lost about 1% today. The bears are making great efforts to push Bitcoin further down, although they seem to be successful for now, the bulls are not willing to give up. In recent days, Bitcoin has been fluctuating between $45,000 and $48,000. It looks like it won't go down any more, but it has to break through the resistances for it to rise. Bitcoin can fall back a little more to break the resistances above $47000, then it will try again.
Before Bitcoin reaches higher highs, it may want to retrace a little more and then try again. As I said before, it is not easy to exceed $ 48000 especially, so Bitcoin will try it a few times. I think it will be successful in the end. It may also be an opportunity to invest around $45,000. If Bitcoin surpasses $48000 and manages to stay above it, it will fly higher fast. For now, investors need to be a little more patient.