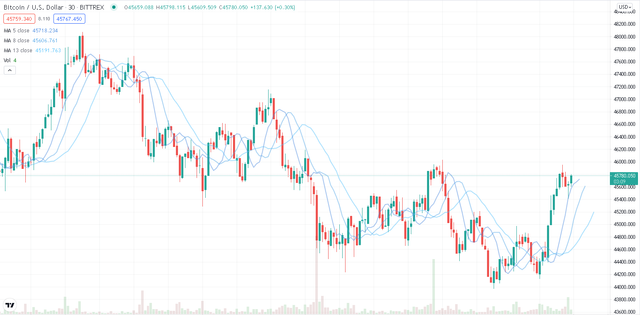 Bitcoin (BTC), which is in the first rank according to its market value, fell below $ 44000 with increasing selling pressures, but quickly moved away from there and rose again. The bears continue to press to lower the price, but the bulls are not giving up. Today, Bitcoin fell below $ 44000, but managed to rise again and rise above $ 45000.
BTC is currently trading at $45780. Nothing has changed in terms of price in 24 hours. It was the same price at this time yesterday. Although, it has been trading around $ 45600 at these times for 2 days. While the bulls are not giving up, the bears are making great efforts to push Bitcoin further down. Bears or bulls will give up at some point, but which one?
It is a great success for Bitcoin to return above $45000 in a short time. But this is not enough for it to continue the rise it started last month. It must reclaim the support of $ 46000. If it can reclaim the $46000 support, it can resume its uptrend. And now there is an opportunity for it to exceed $46000 again. In the coming hours, it will test above $ 46000. If successful, it can continue to rise. But if rejected, it could drop back to $44700.