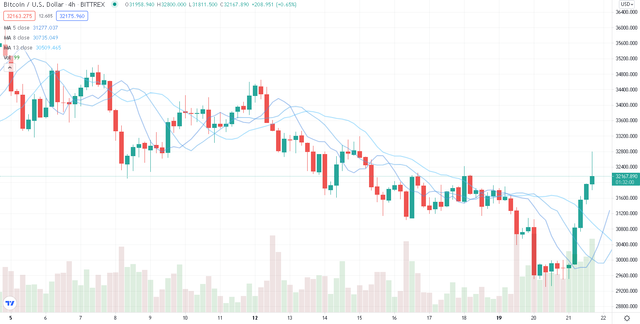 Bitcoin (BTC) has recovered after a few days of decline and is back in an uptrend. The bears' pressure failed and the bulls took the initiative back.
Due to the selling pressures, Bitcoin declined to $ 29200 yesterday, but later on, with the increase in purchases, it started to rise rapidly and managed to exceed $ 32000 with an increase of about 8%. It is currently trading at $32167.
Bitcoin's support at $30000 has been tested several times by the bears, but so far they have not been successful. Bitcoin (BTC) has very solid support at $30000 and the bulls continue to maintain this level. Also, the selling volume is currently low and Bitcoin (BTC) could test $34000 in the coming days. However, it must first break the $32,650 resistance. If he doesn't succeed here, the bears can take the initiative back again. But I think you can break this resistance.
There is still a negative mood in the markets and although many investors are convinced that Bitcoin will drop below $30000, Bitcoin still manages to stay strong. In other words, we are in a period where there is a lot of pessimism as in 2018. This signals that the bull season is approaching. The bull run can start at any time but from my reviews I think it will start in September.
Additionally, I think it will continue to plot Bitcoin V charts until September or until the bull run begins. Based on my current reviews, it could go up and down a few more times between $29000 and $36000.