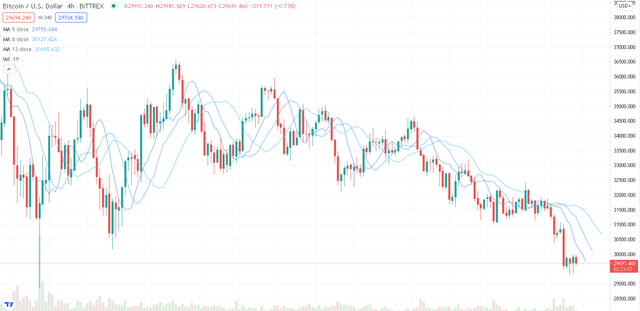 Fear and pessimism continues to pump in the crypto markets. Bitcoin (BTC), which is in the first place by market value today, lost the support of $ 30000 and fell below the critical level. Bitcoin (BTC) dropped to $28800 last month, but then quickly recovered and rose above $30000 again. It even exceeded $36,000 a week later. I think a similar recovery will happen again in the coming days.
I believe that Bitcoin staying below $30000 could be a crash for many cryptocurrencies. If it continues to stay below $30000, it could drop to $26000. Currently Bitcoin (BTC) is trading at $29691 and Bitcoin Dominance (BTC.D) is 46.7%.
Currently, support levels for Bitcoin (BTC) are being tested and pessimism is pumping into the markets. In short, some investors are being pressured to sell. When this is the case, regression is inevitable. On the other hand, for some, this creates an incredible investment opportunity.
I think that Bitcoin (BTC) will not stay long below $30000, it will recover and rise again. I think the current state of pessimism is very similar to the situation in 2018. I think this situation signals the bull season, not the bear season.
I also recommend avoiding short-term investments in such cases. It is wisest to invest long-term with money that is not urgently needed.