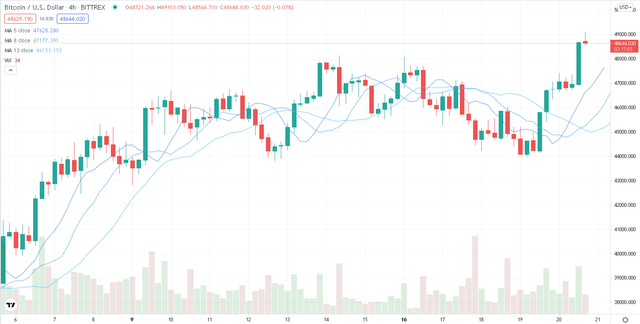 Bitcoin (BTC), which is in the first rank according to its market value, increased by about 6.5% today and managed to exceed $ 48000. Bitcoin, which has been stuck between $ 44000 and $ 47000 for a few days, has made the expected rise today. If it manages to stay above $48000, it will break $50000 much more easily.
BTC is currently trading at $48644. It gained 6.5% in 24 hours and realized the expected rise. Bitcoin, which was traded at $ 45700 at this time yesterday, rose by about $ 3000. The bears haven't given up yet, but they've gotten pretty weak.
It is very important for Bitcoin to rise above $ 48000 in a short time. If it can form support above $48000, the rise this time around will be faster than before. As I said before, I expect Bitcoin to exceed $50,000 this month. I expect it to hit a new ATH in September. BTC, which fell below $ 30000 on the 20th of last month, is now trading above $ 48000. It achieved a great success by increasing almost 65% in 1 month.