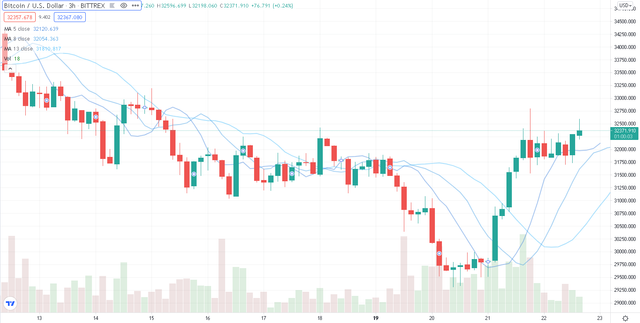 Bitcoin (BTC), which ranks first in terms of market size, continues its upward trend. Although it fell below $ 30000 the other day, it quickly moved away from there and exceeded $ 32000 again. It is currently trading at $32371.
Selling pressures on Bitcoin (BTC) have begun to subside. On the other hand, there is a slight increase in purchases. If Bitcoin (BTC) can break the $32700 resistance, it will test $34000. If it can be successful on both sides, it could move towards $37000.
If the resistance at $32700 is not broken, the bears can take the initiative back again. This time, they can try to break the support at $31500. But for now this is not very likely. I think it will test $34000 in the coming days.
In short, if Bitcoin goes down, it has solid support at $31000 and $31500. I don't think there will be any further declines. But if it goes up, it should break the resistance at $32700, then there is a solid resistance at $ 34000. It will test that resistance and if it succeeds, it can even go up to $ 40000.