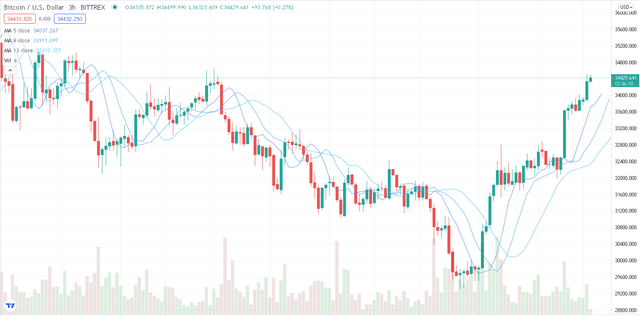 Today, most of the cryptocurrencies have entered a bullish trend. All of the top 10 coins by market cap turned green again and the cryptocurrency market started to grow again. According to Coinmarketcap data, the crypto market has surpassed $1.4 trillion. Bitcoin (BTC), in the first rank by market cap, increased by 7% today and managed to exceed $ 34000. It is currently trading at $34429. Let's examine together what the next goal is.
On the 4-hour chart, we can see that Bitcoin (BTC) continues to rise against declining trading volume. While Bitcoin was trading under $30,000 3 days ago, it did a great job today and managed to surpass $34000. We can say that the bears' pressure failed and the bulls took the initiative again.
Bitcoin (BTC) managed to surpass $34000, but with a slight price adjustment, there may be some regression. It has solid support at $32700 if it fails to stay long above $34000. If BTC manages to stay above $34000, it will attempt to surpass the next target of $36,600. There is a solid resistance at $36,600 and if it can surpass it, it could start a rapid rise towards $40000. It signals that it can exceed $40000 towards the end of the month or in the first week of August.