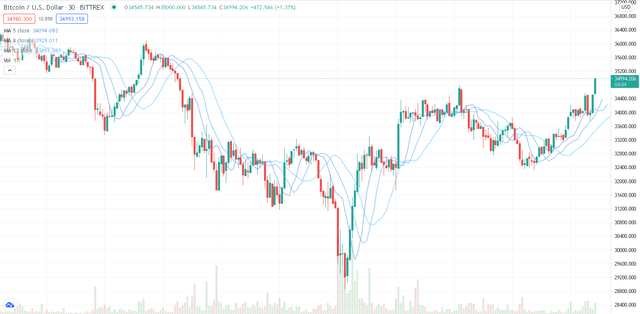 Bitcoin (BTC) has allowed whales to make a lot of profits due to the recent steep drop and volatility. Although, according to statistics, new investors generally sold more. On the other hand, professional investors continued to buy from the Dip.
Bitcoin (BTC) now wants to start a new uptrend, but there are selling demands at $35,000. If it can meet these demands, it will start a new rise. It has solid support at $33,200 if it fails to surpass the selling demands and declines again.
But if BTC wants to go higher, I think the main resistance is $ 40,000. The sales demand there is very high. But it has the strength and stability to break these resistances. If it exceeds these resistances, BTC can regain what it lost in 2.5 months in 1 month.
Bitcoin (BTC) is currently trading at $34994 and has been drawing green candles for the past 1 hour.
First of all, BTC is currently trying to break the $35000 resistance, if it succeeds and stays there for a while, it can rise towards $40,000. A new FUD may emerge during this ascension, but ignore it.