While cryptocurrencies, which rank first in terms of market cap, have a stagnant day, Ethereum (ETH) continues its successful rise in recent days. On the Ethereum (ETH) side, everything is fine. ETH just hit a new ATH, surpassing $ 3,000 for the first time. ETH broke the all-time record at $ 3327. Will it be able to continue its successful rise? and The next target?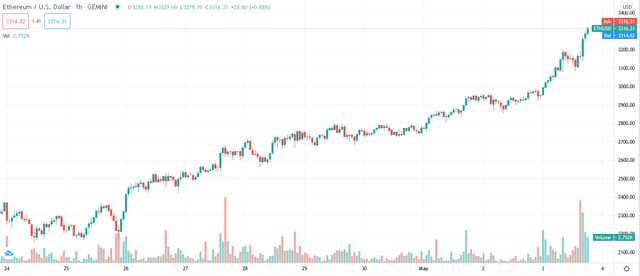 Ethereum continues its upward trend that it has caught in the past month. ETH, which fell to $ 1950 last month, recovered in a very short time and caught an upward trend. ETH, the second most valuable cryptocurrency in terms of market value, managed to break the all-time record, surpassing $ 3,000. It is currently trading at $ 3314.
After the last update of Ethereum, there is a significant increase in the number of transactions and also it is seen that the fees paid in these transactions have decreased by a third. While the average transfer fee was around 300 Gwei before, it dropped to an average of 75 Gwei after the update. I think even 75 Gwei is too high, but Ethereum continues to lead in this area.
In addition, the price difference between Ethereum (ETH) and Bitcoin (BTC) is decreasing day by day. Overall, institutional investors are investing more in BTC, but they seem to have invested in ETH lately. I think that investments in ETH will increase in the coming months. ETH could exceed $ 4,000 in May.