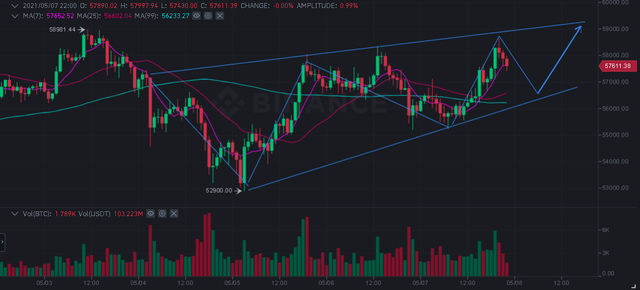 While many cryptocurrencies are in an upward trend, Bitcoin (BTC) has not been able to achieve the long-awaited increase. Investors are generating a sales demand of $ 58,000, and as this demand cannot be met, BTC cannot start a new rise. Whenever $ 58,000 is exceeded, sales come in, causing BTC to fall back to $ 55,000 levels again.
Although this resistance fails over and over again, it seems to be weakening. And it is seen in the graph that these sales demands will be exceeded. If these demands are met, BTC will rise to a new peak.
Currently BTC needs to overcome the $ 58,000 resistance, if it can stay above $ 58,000 for a few hours it could hit a new ATH.
When we look at the past months, whenever BTC goes into recession like this, a new bull market begins. I also think that new institutional investors will join BTC in the coming days.