오랫동안 기다려온 Dfinity Network이 드디어 모습을 드러냈습니다.
지난 5월 7일 Dfinity Foundation에 의해 Mercury Genesis Launch Event가 있었습니다.
사전에 참여 신청을 하였으나 새벽 시간이라 실시간 참여를 할 수는 없었습니다.
관련 내용이 궁금하신 분은 아래 첨부된 동영상을 시청하시면 되겠습니다.

아울러 ICP Token Coinlist Airdrop 물량에 대한 일부 Unlock 및 주요 거래소(Binance, Coinbase, etc)에 대한 상장이 이루어 졌습니다.
현재 바이낸스 거래소 기준으로 480$ 전후로 거래가 이루어지고 있네요.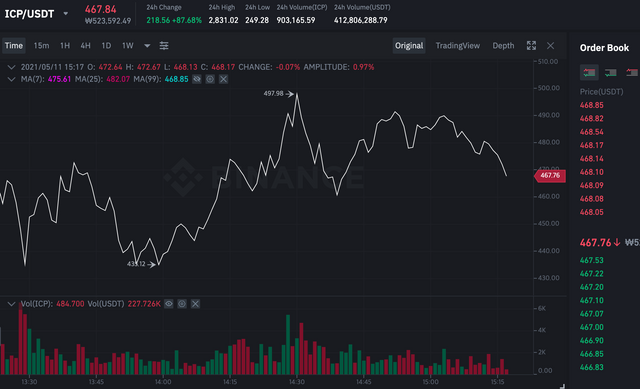 현재 Coinlist에 Unlock된 물량은 Airdrop 받은 일부 물량에 해당합니다.
나머지 물량은 금주중으로 개인별 Wallet에 표기가 완료된다고 합니다.
아울러 Airdrop받은 전체 수량은 향후 12개월에 걸쳐 분할 Airdrop이 이루어질 예정이라고 합니다.
Coinlist에 Airdrop 받으신 물량이 있으신 경우 참고하시기 바랍니다.
금번에 상장된 ICP 토큰은 아래와 같이 2가지 역할을 가지고 있습니다.
하나는 Staking을 통해 Governance에 참여함으로써 Voting Reward를 받을 수 있습니다.
또 하나는 Computation의 연료로 사용되는 Cycle(s)로 변환이 가능하다고 합니다.
상세한 내용은 차후 차근차근 공부해 보고 소개해 볼 수 있도록 하겠습니다.
ICP are utility tokens that have two primary roles:
They enable participation in governance. You can stake them inside the Network Nervous System (NNS) by locking them inside "voting neurons." Voting neurons earn voting rewards. They can be made to vote manually, or configured to vote automatically by following other neurons, in a liquid democracy scheme. The Network Nervous System exerts the will of the community, mediated through algorithms. The more value staked inside the governance system, the greater the security of the network.
ICP can be converted into "cycles" by the Network Nervous System. This is the only way to create cycles, which provide fuel for computation, and can be used in other ways too. The NNS will convert ICP worth 1 SDR into exactly 1 trillion cycles.
DOT이 최초 상장 후 액면분할 후 가격 기준 2~4$ 대에서 현재 30~40$ 전후 가격을 유지하고 있는 전례를 보았을 때 ICP의 가격도 상당히 재평가를 받을 가능성이 높지 않을 까 조심스럽게 생각해 봅니다.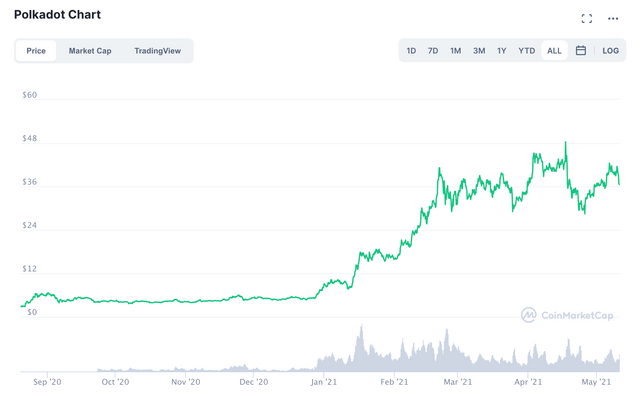 또한 유동성 공급을 위해 액면분할을 진행하게 될지도 궁금하네요.